Height and nutritional status of the infantile population in a Spanish industrial city: the case of Barcelona (1900-1969)
Keywords:
children growth, biological welfare, industrialization, Barcelona
Abstract
Because of urban and sanitary reforms implemented in Barcelona from the second half of 19th century mortality declined. Biological changes in the population under 15 years were a relevant explanatory factor. This article analysis published anthropometric statistics with the aim of reconstructing the trajectory of the biological development of that population and diagnosing its nutritional status over seven decades of the 20th century. The main results show (a) Children born before the Spanish Civil War increased their heights (7 to 13 years) less than one centimeter per decade as an average. However, those who were born from the early fifties overcame the two centimeters per decade. b) Malnutrition was mostly moderate (around twenty percent) and showed a significant reduction from the 1950s onwards c) Differences in heights according to gender, social class and residential place remained throughout those decades, although children population experienced a general trend of increase in heights in all ages.
Downloads
Download data is not yet available.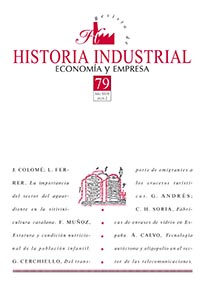 Downloads
License
El/la autor/a cede los derechos al/la editor/a. Creative Commons
El/la autor/a que publica en esta revista está de acuerdo con los términos siguientes:
El/la autor/a cede en exclusiva todos los derechos de propiedad intelectual al/la editor/a para todo el mundo y toda la duración de los derechos de propiedad intelectual vigentes aplicables.
El/la editor/a difundirá los textos con la licencia de reconocimiento de Creative Commons que permite compartir la obra con terceros, siempre que éstos reconozcan su autoría, su publicación inicial en esta revista y las condiciones de la licencia.