Jianyong Yue, China's Rise in the Age of Globalization. Myth or Reality? Londres, Palgrave Macmillan, 2018, 386 pp.
Downloads
Download data is not yet available.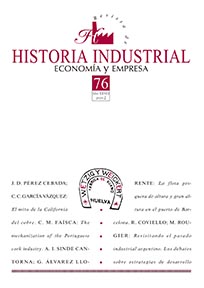 Downloads
How to Cite
Brasó Broggi, Carles. 2019. " 386 Pp". Revista De Historia Industrial — Industrial History Review 28 (76):161-64. https://revistes.ub.edu/index.php/HistoriaIndustrial/article/view/28953.
License
El/la autor/a cede los derechos al/la editor/a. Creative Commons
El/la autor/a que publica en esta revista está de acuerdo con los términos siguientes:
El/la autor/a cede en exclusiva todos los derechos de propiedad intelectual al/la editor/a para todo el mundo y toda la duración de los derechos de propiedad intelectual vigentes aplicables.
El/la editor/a difundirá los textos con la licencia de reconocimiento de Creative Commons que permite compartir la obra con terceros, siempre que éstos reconozcan su autoría, su publicación inicial en esta revista y las condiciones de la licencia.