Mass tourism as a production system: the tourist revolution in the Mediterranean, 1949-2014
Keywords:
techno-economic changes, Mediterranean area, tourism economics, economic history of tourism
Abstract
This work considers different aspects related to the tourist economy and the economic history of tourism. In the first place, the scarcity of study on this important economic sector in the academic world, much more inclined to analysis of agriculture and industry rather than services, activities increasingly essential in economic structures. Secondly, the vision of mass tourism as one more piece in the globalization process, which made a decisive start in the 1950s. And, finally, an empirical focus on the Mediterranean as the epicenter of world tourism development since the late 1940s until practically the present day, based on the study of concrete indicators on the 22 countries that compose, in essence, the coast of the Mare Nostrum.
Downloads
Download data is not yet available.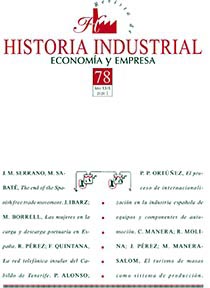 Downloads
How to Cite
Manera, Carles, Ramon Molina, José Pérez-Montiel, and Maria Manera-Salom. 2020. "Mass Tourism As a Production System: The Tourist Revolution in the Mediterranean, 1949-2014". Revista De Historia Industrial — Industrial History Review 29 (78):155-87. https://doi.org/10.1344/rhi.v29i78.29217.
License
El/la autor/a cede los derechos al/la editor/a. Creative Commons
El/la autor/a que publica en esta revista está de acuerdo con los términos siguientes:
El/la autor/a cede en exclusiva todos los derechos de propiedad intelectual al/la editor/a para todo el mundo y toda la duración de los derechos de propiedad intelectual vigentes aplicables.
El/la editor/a difundirá los textos con la licencia de reconocimiento de Creative Commons que permite compartir la obra con terceros, siempre que éstos reconozcan su autoría, su publicación inicial en esta revista y las condiciones de la licencia.