From the transport of emigrants to leisure cruises. The transatlantic passenger shipping companies in Europe following the Second World War: the Spanish case (1945-1960)
Keywords:
tourism history, cruises, maritime transport, migration, Barcelona
Abstract
This paper seeks to address the strategic evolution of the transatlantic passenger shipping companies over the fifteen year period following the Second World War. It focuses on a very turbulent period of a shipping business principally based on emigration demand. During the period under consideration, the transoceanic shipping lines evolved from a strong dynamic phase to one of incipient decline. The research pursues two basic objectives: to examine the changes that took place in the line services and to analyse the cruise offer in detail, paying particular attention to the Spanish market. The essay includes an innovative estimate of the cruise traffic during the 1950s, taking the port of Barcelona as a reference. The work methodology is based on analysing the port chronicles published by the newspaper La Vanguardia, together with the study of the advertising material gathered from different virtual newspaper libraries. The analysis reveals some important aspects, including the clear autonomy of the evolution of the cruise activity with respect to the overall trend in international tourism.
Downloads
Download data is not yet available.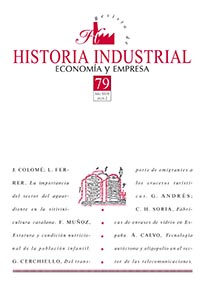 Downloads
License
El/la autor/a cede los derechos al/la editor/a. Creative Commons
El/la autor/a que publica en esta revista está de acuerdo con los términos siguientes:
El/la autor/a cede en exclusiva todos los derechos de propiedad intelectual al/la editor/a para todo el mundo y toda la duración de los derechos de propiedad intelectual vigentes aplicables.
El/la editor/a difundirá los textos con la licencia de reconocimiento de Creative Commons que permite compartir la obra con terceros, siempre que éstos reconozcan su autoría, su publicación inicial en esta revista y las condiciones de la licencia.