Women in loading and unloading in Spanish ports from the 19th to the 20th centuries
Keywords:
women dock workers, occupational segregation, dock work, female unionism
Abstract
Women were employed in the loading and unloading of cargo, towed barges, and piloted boats on waterways. However, this has been little considered in the specialized literature, both European and Spanish. At the end of the 19th century, women dock workers were important in the ports of La Coruña, Santander, and Bilbao. They were organized in unions and were involved in numerous and important strikes. The main objectives of this paper are to reconstruct the chronology of the presence of these women and their involvement in labor mobilization in the sector, and establish the circumstances of their disappearance after the First World War. This work focuses on the main ports of northern Spain, and opens a discussion about the characteristics and evolution of female work in a sector considered exclusively male. Essentially, this paper represents an initial interpretation on women dock workers in Spanish ports.
Downloads
Download data is not yet available.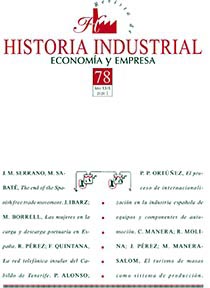 Downloads
License
El/la autor/a cede los derechos al/la editor/a. Creative Commons
El/la autor/a que publica en esta revista está de acuerdo con los términos siguientes:
El/la autor/a cede en exclusiva todos los derechos de propiedad intelectual al/la editor/a para todo el mundo y toda la duración de los derechos de propiedad intelectual vigentes aplicables.
El/la editor/a difundirá los textos con la licencia de reconocimiento de Creative Commons que permite compartir la obra con terceros, siempre que éstos reconozcan su autoría, su publicación inicial en esta revista y las condiciones de la licencia.