The importance of the distilled spirits sector in Catalan viticulture in the 18th and 19th centuries
Keywords:
Catalonia 19th century, coastal trade, distilled spirits, wine
Abstract
From the end of the 17th century, the production and export of distilled spirits from wine has been one of the most dynamic sectors of the Catalan economy. At the end of the 18th century, this trade got into crisis and gave prominence to table wine exports. Throughout the article, we defend the hypothesis that the replacement was possible thanks to a new winemaking, product of the advances in chemistry, which provided, on the one hand, the necessary instruments for the preservation of wines, and, secondly, making wines adapted to different markets thanks to coupages and imitation wines. It was within this framework that the production of spirits again played a fundamental role for fortifying wines that were destined for exports and for all kinds of coupages and imitations, for which they were an indispensable ingredient.
Downloads
Download data is not yet available.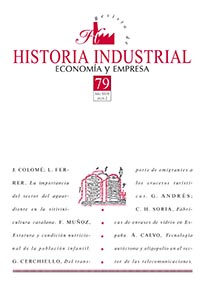 Downloads
License
El/la autor/a cede los derechos al/la editor/a. Creative Commons
El/la autor/a que publica en esta revista está de acuerdo con los términos siguientes:
El/la autor/a cede en exclusiva todos los derechos de propiedad intelectual al/la editor/a para todo el mundo y toda la duración de los derechos de propiedad intelectual vigentes aplicables.
El/la editor/a difundirá los textos con la licencia de reconocimiento de Creative Commons que permite compartir la obra con terceros, siempre que éstos reconozcan su autoría, su publicación inicial en esta revista y las condiciones de la licencia.