Women's waged work and life cycle in the catalan cork industry, c. 1860-1920
Keywords:
women's activity rates, life cycle, cork industry, Catalonia
Abstract
This article studies the feminisation process of the cork industry in the Girona region in the late nineteenth and early twentieth centuries. It also reconstructs women's activity rates in 1920. The analysis of the life cycle's influence on women's labour-force participation underlines the diversity of local models, depending on labour demand. Whereas in those places where it was weak, only young single women worked, in those towns where labour demand was intense women worked for a wage after their marriage and, although female labour participation was not completely insensitive to variables such as the number of children or family structure (nuclear or stem), it was more decisively determined by the number of male workers in the household.
Downloads
Download data is not yet available.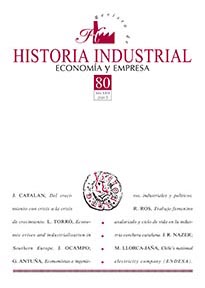 Downloads
License
El/la autor/a cede los derechos al/la editor/a. Creative Commons
El/la autor/a que publica en esta revista está de acuerdo con los términos siguientes:
El/la autor/a cede en exclusiva todos los derechos de propiedad intelectual al/la editor/a para todo el mundo y toda la duración de los derechos de propiedad intelectual vigentes aplicables.
El/la editor/a difundirá los textos con la licencia de reconocimiento de Creative Commons que permite compartir la obra con terceros, siempre que éstos reconozcan su autoría, su publicación inicial en esta revista y las condiciones de la licencia.