Economic crises and industrialisation in Southern Europe: the Valencian cloth-making town of Alcoi (1600 and 1800)
Keywords:
proto-industrialisation, cloth making, economic crisis, guilds, mechanisation
Abstract
Research on the development of industrial capitalism often overlooks the existence of successful industrialisation processes in southern Europe. The article analyses how the cloth-making industry of the town of Alcoi responded to the difficulties that it faced during two crises that occurred almost two hundred years apart. The first arose at the end of the sixteenth century and after the expulsion of the Moriscos in 1609. The second crisis began between 1809 and 1815, in the context of the Peninsula War. Both conjunctures caused serious difficulties to manufacturing activities that were resolved with the profound changes that would fundamentally affect the sphere of production. The study clarifies certain aspects with respect to the emergence of industrial capitalism in Alcoi in the early nineteenth century.
Downloads
Download data is not yet available.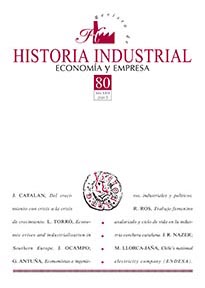 Downloads
License
El/la autor/a cede los derechos al/la editor/a. Creative Commons
El/la autor/a que publica en esta revista está de acuerdo con los términos siguientes:
El/la autor/a cede en exclusiva todos los derechos de propiedad intelectual al/la editor/a para todo el mundo y toda la duración de los derechos de propiedad intelectual vigentes aplicables.
El/la editor/a difundirá los textos con la licencia de reconocimiento de Creative Commons que permite compartir la obra con terceros, siempre que éstos reconozcan su autoría, su publicación inicial en esta revista y las condiciones de la licencia.