Autochthonous technology and oligopoly in the telecommunications sector: Amper, 1980-2003
Keywords:
oligopoly, telecommunications, ICT, Spain, defence and security
Abstract
The article explores the survival patterns and mechanisms of an autochthonous technology- based telecommunications company during the 1980s-1990s in a context of increasing market liberalization and integration, which nevertheless maintained its oligopolistic structure. It aims to shed light on the behaviour of industrial companies in these areas between the nation-state and multinationals and in a context of intense technological change, growing economic integration and rapid transition to open economies. As for the methodology, the narrative prevails, since it relates the vicissitudes of Amper, which are not well known as a whole. The analysis of the trajectory is based on a combination of primary and secondary sources, among which Amper's own stand out. The article is structured in four main sections, which include the factors of Amper's expansion, the internationalisation of the company in its various facets, the corporate partnership with multinationals and the divestments and segregations. Its findings reveal that Amper's longevity is due to the conjunction of a plurality of technological and organizational factors, which turned an old family business into a complex mini-multinational ICT company specializing in defence and security.
Downloads
Download data is not yet available.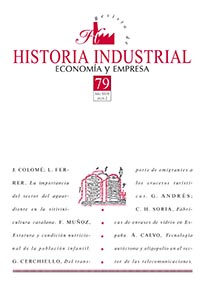 Downloads
License
El/la autor/a cede los derechos al/la editor/a. Creative Commons
El/la autor/a que publica en esta revista está de acuerdo con los términos siguientes:
El/la autor/a cede en exclusiva todos los derechos de propiedad intelectual al/la editor/a para todo el mundo y toda la duración de los derechos de propiedad intelectual vigentes aplicables.
El/la editor/a difundirá los textos con la licencia de reconocimiento de Creative Commons que permite compartir la obra con terceros, siempre que éstos reconozcan su autoría, su publicación inicial en esta revista y las condiciones de la licencia.