Are business schools useful for family businesses? IESE's influence on three significant Spanish firms
Keywords:
Business schools, family business, Spain, 20th century, organizational change
Abstract
This article deals with the long-term impact of business schools on the organizational and growth strategies of their client-firms. Although it is crucial to understand the global influence of business schools, this issue has been rarely approached from a historical perspective. Our research focuses on the relationship developed between the Instituto de Estudios Superiores de la Empresa (IESE) and the family firms Salvat, Puig, and Lladró through their professor-consultants and student-clients from 1958 to the 1990s. This analysis allows, first, to identify the exogenous and endogenous forces participating in the making of IESE, a world-leading business school in the 21st century. Second, we show that IESE's early executive education programs provided expert knowledge, consulting services, and networks that amplified the school's influence in the long-term development of its client firms. Third, we explain the engagement
of IESE and some of its associated firms in the worldwide academic legitimation of family business studies that took place from the 1980s onwards.
Downloads
Download data is not yet available.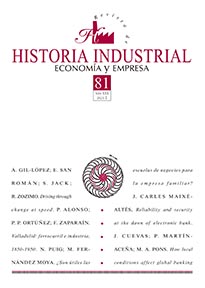 Downloads
License
El/la autor/a cede los derechos al/la editor/a. Creative Commons
El/la autor/a que publica en esta revista está de acuerdo con los términos siguientes:
El/la autor/a cede en exclusiva todos los derechos de propiedad intelectual al/la editor/a para todo el mundo y toda la duración de los derechos de propiedad intelectual vigentes aplicables.
El/la editor/a difundirá los textos con la licencia de reconocimiento de Creative Commons que permite compartir la obra con terceros, siempre que éstos reconozcan su autoría, su publicación inicial en esta revista y las condiciones de la licencia.