Driving through change at speed. Opportunity conditions and entrepreneurial responses in the history of the express industry
Keywords:
entrepreneurship, industry change, delivery services, express industry.
Abstract
History encompasses some singular sequences of events and conditions that create entrepreneurial opportunities. This paper looks at the historical settings of the second and third waves of industrialization to consider the emergence and evolution of the express industry, whose origins date from mid-nineteenth century America. By using sequential historical reasoning, this work determines how these different settings created entrepreneurial opportunities and how entrepreneurs in the express industry exploited them through innovative responses that went on transforming the nature of the industry through time.
Downloads
Download data is not yet available.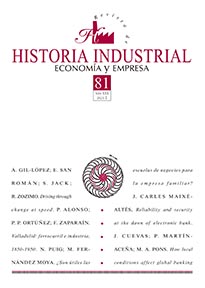 Downloads
License
El/la autor/a cede los derechos al/la editor/a. Creative Commons
El/la autor/a que publica en esta revista está de acuerdo con los términos siguientes:
El/la autor/a cede en exclusiva todos los derechos de propiedad intelectual al/la editor/a para todo el mundo y toda la duración de los derechos de propiedad intelectual vigentes aplicables.
El/la editor/a difundirá los textos con la licencia de reconocimiento de Creative Commons que permite compartir la obra con terceros, siempre que éstos reconozcan su autoría, su publicación inicial en esta revista y las condiciones de la licencia.