Economists and engineers, politicians and industrialists: Industrialisms in liberal Spain (1800-1850)
Keywords:
industrialism, agrarianism, liberal revolution, economic doctrines
Abstract
Agrarian mercantilism, being the ruling tradition throughout the 18th century, extended its influence into the 19th century under the cover of classical economics as applied to the 'natural order' of economic development. The agrarian sector with its excellent political representation, backed that trend. Given this state of affairs, it is no surprise to find that the industrial discourse met with difficulty in trying to find a place within the fields of economic analysis, economic policy and technical education. Catalan industrialists, producers' associations and the economists linked to them would consequently be the first to support the industrial cause. The key to their success was the link they established with the liberal cause. Throughout the century, the industrial discourse was not uniform either in connection with demands for tolls (prohibitionism, protectionism, free trade) or in connection with its doctrinal source (eclecticism, social economics, saintsimonianism, etc.)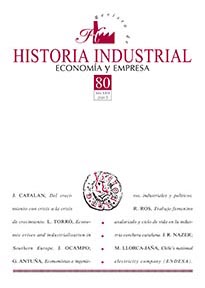 Downloads
License
El/la autor/a cede los derechos al/la editor/a. Creative Commons
El/la autor/a que publica en esta revista está de acuerdo con los términos siguientes:
El/la autor/a cede en exclusiva todos los derechos de propiedad intelectual al/la editor/a para todo el mundo y toda la duración de los derechos de propiedad intelectual vigentes aplicables.
El/la editor/a difundirá los textos con la licencia de reconocimiento de Creative Commons que permite compartir la obra con terceros, siempre que éstos reconozcan su autoría, su publicación inicial en esta revista y las condiciones de la licencia.