Rise and fall of the agricultural tractor manufacturing and distribution sector in Spain (1950-1994)
Keywords:
Agrarian History, Franco Dictatorship, Agricultural tractors, Agricultural machinery
Abstract
The main aim of the article is to analyze the evolution of the manufacturing's and distribution sector of agricultural tractors in Spain (1950-1994). We analyze different com­panies, manufacturers and distributors to understand the role of supply in the framework of the great technological changes of agriculture industrialization during the Franco dictator­ship, the transition and the first years of democracy in Spain. We start from an approach developed from agrarian history, although combining perspectives with industrial and business history, to analyze the different strategies of companies and multinationals in the sector, the state regulatory framework and the demand for tractors. For the elaboration of the article, we resorted to sources generated by the State administration, internal documentation of companies, informative magazines and, also, to the oral source.
Downloads
Download data is not yet available.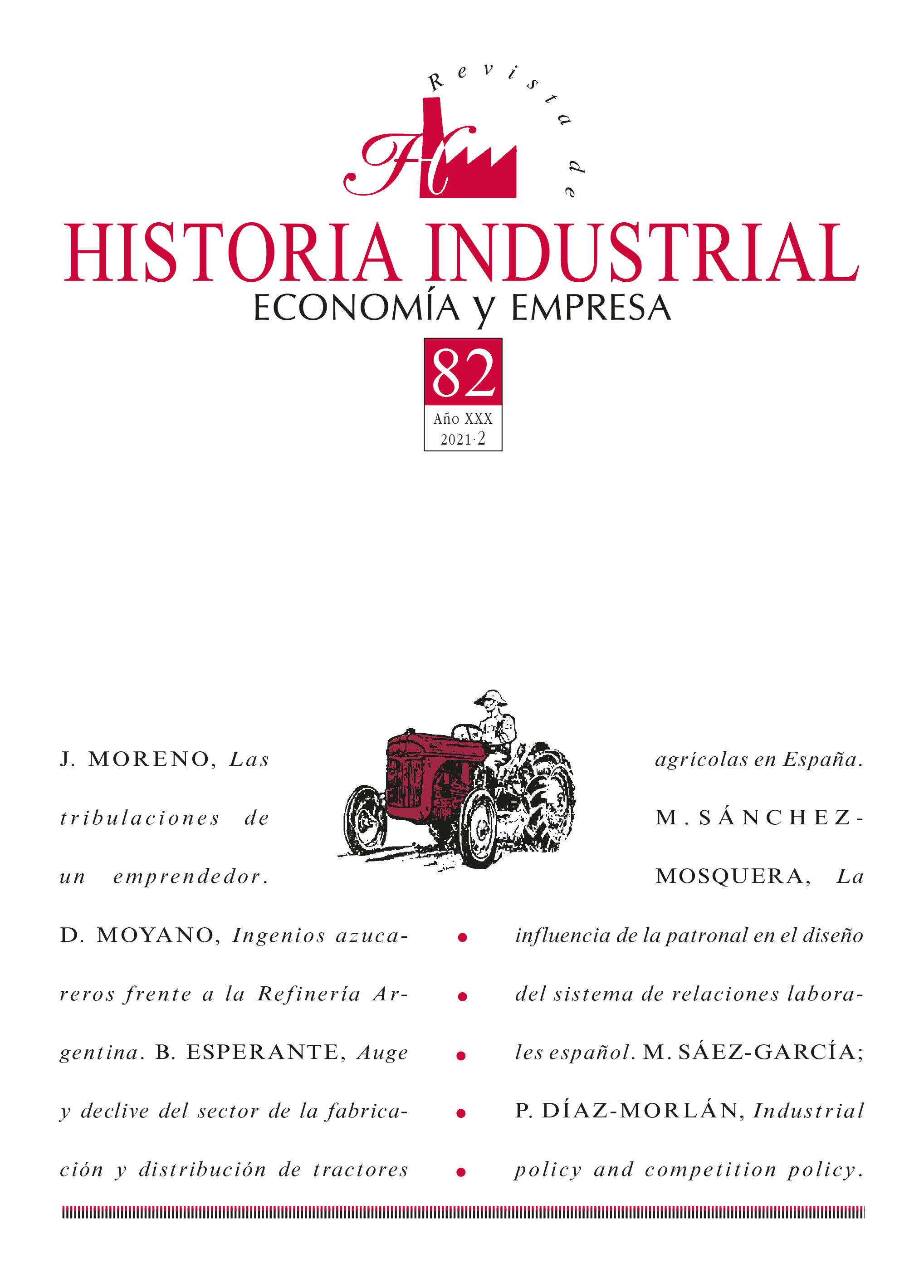 Downloads
How to Cite
Esperante, Bruno. 2021. "Rise and Fall of the Agricultural Tractor Manufacturing and Distribution Sector in Spain (1950-1994)". Revista De Historia Industrial — Industrial History Review 30 (82):95-131. https://doi.org/10.1344/rhiihr.v30i82.32636.
License
Copyright (c) 2021 Revista de Historia Industrial. Economía y Empresa
This work is licensed under a Creative Commons Attribution 4.0 International License.
El/la autor/a cede los derechos al/la editor/a. Creative Commons
El/la autor/a que publica en esta revista está de acuerdo con los términos siguientes:
El/la autor/a cede en exclusiva todos los derechos de propiedad intelectual al/la editor/a para todo el mundo y toda la duración de los derechos de propiedad intelectual vigentes aplicables.
El/la editor/a difundirá los textos con la licencia de reconocimiento de Creative Commons que permite compartir la obra con terceros, siempre que éstos reconozcan su autoría, su publicación inicial en esta revista y las condiciones de la licencia.