Jordi Nadal i Oller (1929-2020): Newtonian effort, prophetic consciousness
Abstract
Biographical note of Dr. Jordi Nadal i Oller, founder and emeritus director of Revista de Historia Industrial, who died on December 8, 2020.
Downloads
Download data is not yet available.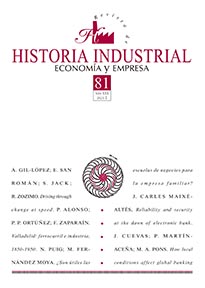 Downloads
How to Cite
Catalan, Jordi, Miquel Gutiérrez-Poch, Alex Sánchez, and Carles Sudrià. 2021. "Jordi Nadal I Oller (1929-2020): Newtonian Effort, Prophetic Consciousness". Revista De Historia Industrial — Industrial History Review 30 (81):11-18. https://doi.org/10.1344/rhi.v30i81.34180.
License
El/la autor/a cede los derechos al/la editor/a. Creative Commons
El/la autor/a que publica en esta revista está de acuerdo con los términos siguientes:
El/la autor/a cede en exclusiva todos los derechos de propiedad intelectual al/la editor/a para todo el mundo y toda la duración de los derechos de propiedad intelectual vigentes aplicables.
El/la editor/a difundirá los textos con la licencia de reconocimiento de Creative Commons que permite compartir la obra con terceros, siempre que éstos reconozcan su autoría, su publicación inicial en esta revista y las condiciones de la licencia.