«The emperor wears no clothes!»: a laclaudian perspective on EUropopulism
Paraules clau:
"Populism", "European Union", "Ursula von der Leyen", "Laclau", "Discourse analysis"
Resum
The current paper consists of thought exercise that aims at challenging the quasi-universal assumption that only those opposing the multidimensional integration project underlying the construction and expansion of the European Union are populists. Analyzing the European Commission's president - Ursula von der Leyen - inaugural speech against the backdrop of Ernesto Laclau "On populist reason", this paper unveils traces of populism in the EU actions and discourse, only to confirm populism as a logic inherent to the political, rather than an ideology per se.
Referències
Authors of Wikipedia (s.d.), List of United Nations Security Council resolutions concerning Cyprus. Wikipedia. Available at: https://en.wikipedia.org/wiki/List_of_United_Nations_Security_Council_resolutions_concerning_Cyprus, accessed on June 17, 2020;
BBC (2013). Iceland and Faroe Islands make demands over EU fish sanction stance. News. Available at: https://www.bbc.com/news/uk-scotland-23730424, accessed on June 17, 2020;
Bretherton, C. & Vogler, J. (2006). The European Union as a Global Actor. Routledge;
Brown, W. (2015). Undoing the Demos: Neoliberalism's Stealth Revolution. Zone Books / Near Futures;
Brown, W. (2019). In the Ruins of Neoliberalism: The Rise of Antidemocratic Politics in the West. Columbia University Press;
Busch, M., & Molendowski, E. (2011). The Global Financial Crisis and the Problem of Iceland's Membership in the European Union, Folia Oeconomica Stetinensia, 10 (1): 110-119. DOI: 10.2478/v10031-011-0004-3
Callon, M. & B. Latour (1981). 'Unscrewing the big Leviathan: how actors macro-structure reality and how sociologists help them to do so. In Knorr-Cetina, K. & Cicourel, A. V. (eds.), Advances insocial theory and methodology: towards an integration of micro and macro sociologies, 277–303.London: Routledge.
De Vries, C. E. (2018). Euroscepticism and the future of European integration. Oxford University Press;
DW (2019). Von der Leyen: 'Europe must learn the language of power'. News. Available at: https://p.dw.com/p/3SiPO, accessed on May 29, 2020;
Elazar, D. (1996). From Statism to Federalism: A Paradigm Shift. International Political Science Review / Revue Internationale De Science Politique, 17(4), 417-429;
European Commission (1993). Internal Market, Industry, Entrepreneurship and SMEs. Available at: https://ec.europa.eu/growth/single-market/, accessed on June 17, 2020;
Fukuyama, F. (2018). Identity: The Demand for Dignity and the Politics of Resentment. New York: Farrar, Straus and Giroux;
Gaonkar, D. P. (2012). The primacy of the political and the trope of the 'People' in Ernesto Laclau's On Populist Reason. Cultural Studies, 26 (2-3): 185-206. DOI: 10.1080/09502386.2011.636187;
Jones, E. (2015) The Euro: Irreversible or Conditional?. Survival, 57 (5): 29-46. DOI: 10.1080/00396338.2015.1090121
Kioupkiolis A. & Katsambekis G. (2018) Radical Left Populism from the Margins to the Mainstream: A Comparison of Syriza and Podemos. In: García Agustín Ó., Briziarelli M. (eds) Podemos and the New Political Cycle. Palgrave Macmillan, Cham;
Laclau, E. (1993). Discourse. In Goodin, R. E. & Pettit, P. (eds). A Companion to Contemporary Political Philosophy. Oxford, Basil Blackwell.
Laclau, E. (2005). On Populist Reason. London: Verso Books;
Lynch, J., & Hopkin, J. (2018). Post-crisis political change in Western Europe. Current History, 117 (802): 315-320.
Müller, J. (2016). What is populism?. University of Pennsylvania Press: Philadelphia;
Norris, P. & Inglehart, R. (2019). Cultural Backlash: Trump, Brexit, and Authoritarian Populism. Cambridge: Cambridge University Press, 2019;
Palickova, A. (2019). Visegrad leaders claim victory in race for EU top jobs. Euractiv. Available at: https://www.euractiv.com/section/eu-elections-2019/news/visegrad-leaders-claim-victory-in-race-for-eu-top-jobs/, accessed on May 26, 2020;
Rye, Lise. (2018). Norwegian Euroscepticism Revisited. The Gap Between Policy and Practice. European Integration and New Anti-Europeanism III.
Schneider, C.J. (2019). Euroscepticism and government accountability in the European Union. The Review of International Organizations, 14: 217–238. DOI: 10.1007/s11558-019-09358-w;
Tocci, N. (2020) Resilience and the role of the European Union in the world, Contemporary Security Policy, 41:2, 176-194, DOI: 10.1080/13523260.2019.1640342;
Troitiño, D. R., Kerikmäe, T., & Chochia, A. (2020). Foreign Affairs of the European Union: How to Become an Independent and Dominant Power in the International. The EU in the 21st Century: Challenges and Opportunities for the European Integration Process, 209;
Vieten, U. M. & Poynting, S. (2016). Contemporary Far-Right Racist Populism in Europe, Journal of Intercultural Studies, 37:6, 533-540, DOI: 10.1080/07256868.2016.1235099;
Wilkinson, M. A. (2019). Authoritarian Liberalism in Europe: A Common Critique of Neoliberalism and Ordoliberalism. Critical Sociology, 45 (7-8): 1023-1034. DOI: 10.1177/0896920519837325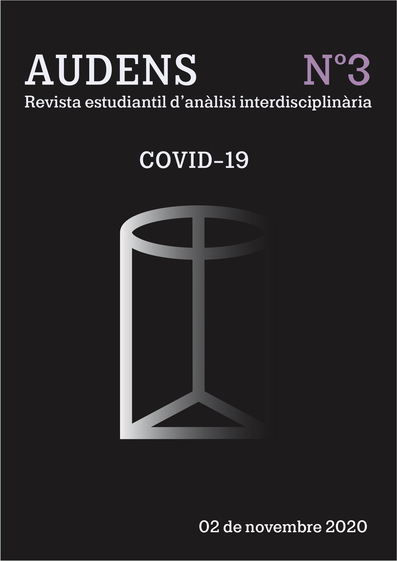 Descàrregues
Llicència
L'autor/a que publica en aquesta revista està d'acord amb els termes següents:
L'autor/a conserva els drets d'autoria i atorga a la revista el dret de primera publicació de l'obra.
Els textos es difondran amb la llicència de Reconeixement de Creative Commons, la qual permet compartir l'obra amb tercers, sempre que en reconeguin l'autoria, la publicació inicial en aquesta revista i les condicions de la llicència.