La variabilidad neuronal y el diseño universal para el aprendizaje (DUA)
Keywords:
brain variability, diversity, universal design of learning, redes neuronales, connectivity, neuroevolution, neuroplasticity, singularity
Abstract
Diversity in the classroom is considered because of individuals' peculiarities. Each brain is unique, which causes differences in terms of learning pace, processes, learning needs, motivation, skills, etc. The uniqueness of the human brain is one of OCDE's (1) learning principles, as well as one of the topics dealt with in neuroscience. Tokuhama (2), professor at Harvard University, says that "human brains are as unique as human faces. Although the basic structure of most human brains is the same (similar parts in similar regions), no two brains are alike. Each person's unique genotype is combined with life experiences in order to shape neural pathways". Another accepted universal principle regarding the brain is its plasticity. Neuroscience has proved that the brain is a remarkably adaptable organ. As a result, it is able to reorganise itself both functionally and structurally, while forming new connections as we learn. "Placing the student at the centre of the teaching-learning process, taking their previous knowledge into account, and using activities that match students' interests will make the learning potentially meaningful. Also, it will allow a stronger involvement in the process." (3) On the other hand, knowing about the differences among brains in a group or class allows us to use the best learning resources in each case in order to increase neuroplasticity and improve their learning processes. In general, our education system is based on the idea of homogeneous groups, while considering diversity as an exception to the rule. Though, the existence of different brains should be taken into account, which means designing learning contexts that help students remove barriers. This way, the learning process would become easier and accessible for everyone.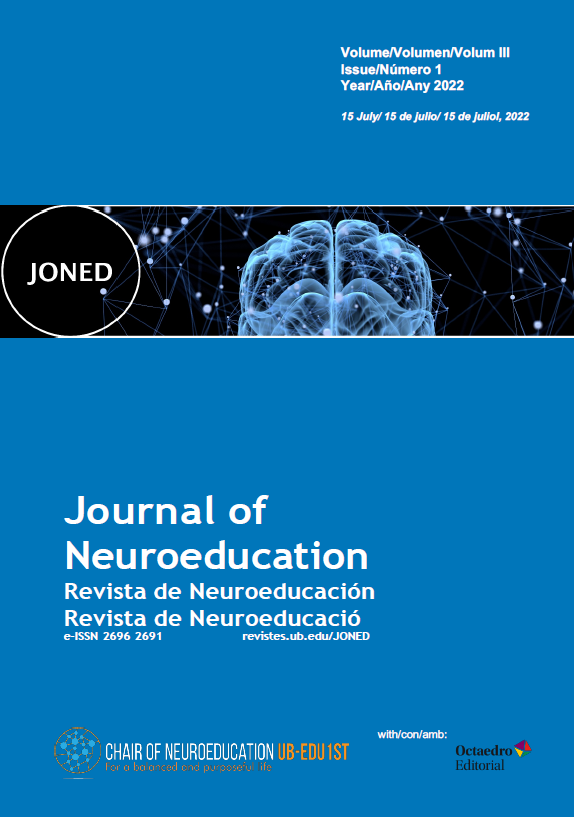 Downloads
Section
Neuroeducational Research
License
Copyright (c) 2022 Esther Ferrer Escartín
This work is licensed under a Creative Commons Attribution-NonCommercial 4.0 International License.

The authors who publish in this journal agree to the following terms:
a. Authors retain copyright and grant the journal the right of first publication
b. Texts will be published under a Creative Commons Attribution Non Commercial License that allows others to share the work, provided they include an acknowledgement of the work's authorship, its initial publication in this journal and the terms of the license, and not for commercial use.