Smart Museums. Definition and presentation of a smart management model for museums
Keywords:
cultural tourism, museums, smart management, smart museum
Abstract
The appearance of smart models for tourism management has contributed towards a more efficient administration of tourism products. However, museums are institutions that have not been explored from this angle and possess great potential for their application. This research aims to put forward a proposal of a Smart Model for museum management and define the main characteristics of a Smart Museum. Although plenty of museums are adapting their facilities and experiences through a digital transformation, there are scarcely any that adopt the Smart designation for their description, nor base their operation on existing literature on smart management. A focus group with experts in museology, smart management and heritage innovation allowed to identify the main components for smart management to take place in a museum setting. Furthermore, the data were coded, organised and analysed thematically focusing on the principal elements discussed in the group meeting. The absence of a clear definition for a smart museum was detected. Nonetheless, the contributions from the focus group, together with the findings from the literature review on existing smart models provided the necessary concepts to establish a definition and build an application model adapted to museums.
References
Barbour, R. S. (2010). Focus groups. In The SAGE Handbook of Qualitative Methods in Health Research (pp. 327–352). SAGE Publications Ltd. http://dx.doi.org/10.4135/9781446268247.n18
Buhalis, D. (2015, February 10). Working Definitions of Smartness and Smart Tourism Destination. Buhalis Blog. http://t.co/xrLRpGipvu
Caballero Zoreda, L. (1988). Teoría general del Museo. Boletín de La ANABAD, 38(3), 29–42.
Della Corte, V., Aria, M., & Del Gaudio, G. (2016). Smart, open, user innovation and competitive advantage: A model for museums and heritage sites. Museum Management and Curatorship, 32(1), 50–79. https://doi.org/10.1080/09647775.2016.1247380
Esteller, E. C. (2005). Reflexiones en torno a los museos, hoy. Museos.Es: Revista de La Subdirección General de Museos Estatales, 12–21.
Gaiani, M., Apollonio, F. I., & Fantini, F. (2020). Una metodología inteligente para la digitalización de colecciones museísticas. EGA Revista de Expresión Gráfica Arquitectónica, 25(38), 170. https://doi.org/10.4995/ega.2020.12281
Giffinger, R., Fertner, C., Kramar, H., & Meijers, E. (2007). City-ranking of European medium-sized cities. Cent. Reg. Sci. Vienna UT, 9, 1-12. Chicago.
Gretzel, U., Sigala, M., Xiang, Z., & Koo, C. (2015). Smart tourism: Foundations and developments. Electronic Markets, 25(3), 179–188. https://doi.org/10.1007/s12525-015-0196-8
Gretzel, U., Zhong, L., & Koo, C. (2016). Application of smart tourism to cities. International Journal of Tourism Cities, 2(2). https://doi.org/10.1108/IJTC-04-2016-0007
Hernández Hernández, F. (2015). La Museología: entre la tradición y la posmodernidad. Complutum, 26(2), 2–26.
ICOM. (2007). Resolutions adopted by ICOM's 22nd General Assembly. ICOMs Resolutions 2007. Retrieved from https://icom.museum/wp-content/uploads/2018/07/ICOMs-Resolutions_2007_Eng.pdf
Llonch, N., & Santacana, J. (2011). Claves de la museografía didáctica. Milenio.
López de Ávila, A., & García Sánchez, S. (2013). Destinos Turísticos Inteligentes. Harvard Deusto Business Review.
Lopez-Barbosa, F. (2001). Funciones, misiones y gestión de la entidad «museo». In Memorias de los coloquios nacionales: La arqueología, laetnografía, la historia y el arte en el Museo; desarrollo y proyección de las colecciones del Museo Nacional de Colombia. (pp. 29–39). Ministerio de Cultura.
Kusumastuti, R. D., & Rouli, J. (2021). Smart city implementation and citizen engagement in Indonesia. IOP Conference Series: Earth and Environmental Science, 940(1), 012076. https://doi.org/10.1088/1755-1315/940/1/012076
Morgan, D. L. (1996). Focus groups. Annual Review of Sociology, 22(1), 129–152. https://doi.org/10.1146/annurev.soc.22.1.129
Nam, T., & Pardo, T. A. (2011). Conceptualizing smart city with dimensions of technology, people, and institutions. Proceedings of the 12th Annual International Digital Government Research Conference on Digital Government Innovation in Challenging Times - Dg.o '11. http://dx.doi.org/10.1145/2037556.2037602
Noble, J. V. (1970). Museum Manifesto. Museum News, 48(8), 17–20.
Reca, M. M. (2004). Conflictos y estrategias en el desarrollo de exhibiciones. III Jornadas de Museologia Gestión, Curaduría y Turismo Cultural, Centro de Museos de Buenos Aires.
Sagüés, C. V. (2008). La difusión, una función del museo. Museos.Es: Revista de La Subdirección General de Museos Estatales, 4, 64-75.
SEGITTUR. (2015). Smart Tourism Destinations: Building the Future. https://www.segittur.es/wp-content/uploads/2021/11/segittur_smartdestination_english_full_report_OK.pdf
SEGITTUR. (2019, November 14). Destinos Turísticos Inteligentes. https://www.segittur.es/destinos-turisticos-inteligentes/proyectos-destinos/destinos-turisticos-inteligentes/
Simmons J. E. (2016). Museums: a history. Rowman & Littlefield. Retrieved October 4 2022 from http://www.dawsonera.com/depp/reader/protected/external/AbstractView/S9781442263635
Tse, R., Im, M., Tang, S.-K., Menezes, L., Dias, A., & Pau, G. (2020). Self-adaptive sensing iot platform for conserving historic buildings and collections in museums. Proceedings of the 5th International Conference on Internet of Things, Big Data and Security. http://dx.doi.org/10.5220/0009470203920398
UNESCO (1992). International Conference on Education, 43rd Session, The Contribution of Education to Cultural Development, p.4, §8
van Aalst, I., & Boogaarts, I. (2002). From museum to mass entertainment: The evolution of the role of museums in cities. European Urban and Regional Studies, 9(3), 195–209. https://doi.org/10.1177/0967642002009003033
Vargas-Sánchez, A., & Saltos, A. E. (2019). Smartness and social networks as shapers of the tourism industry. Worldwide Hospitality and Tourism Themes, 11(6), 748–759. https://doi.org/10.1108/whatt-09-2019-0057
Viani, F., Polo, A., Garofalo, P., Anselmi, N., Salucci, M., & Giarola, E. (2017). Evolutionary optimization applied to wireless smart lighting in energy-efficient museums. IEEE Sensors Journal, 17(5), 1213–1214. https://doi.org/10.1109/jsen.2017.2647827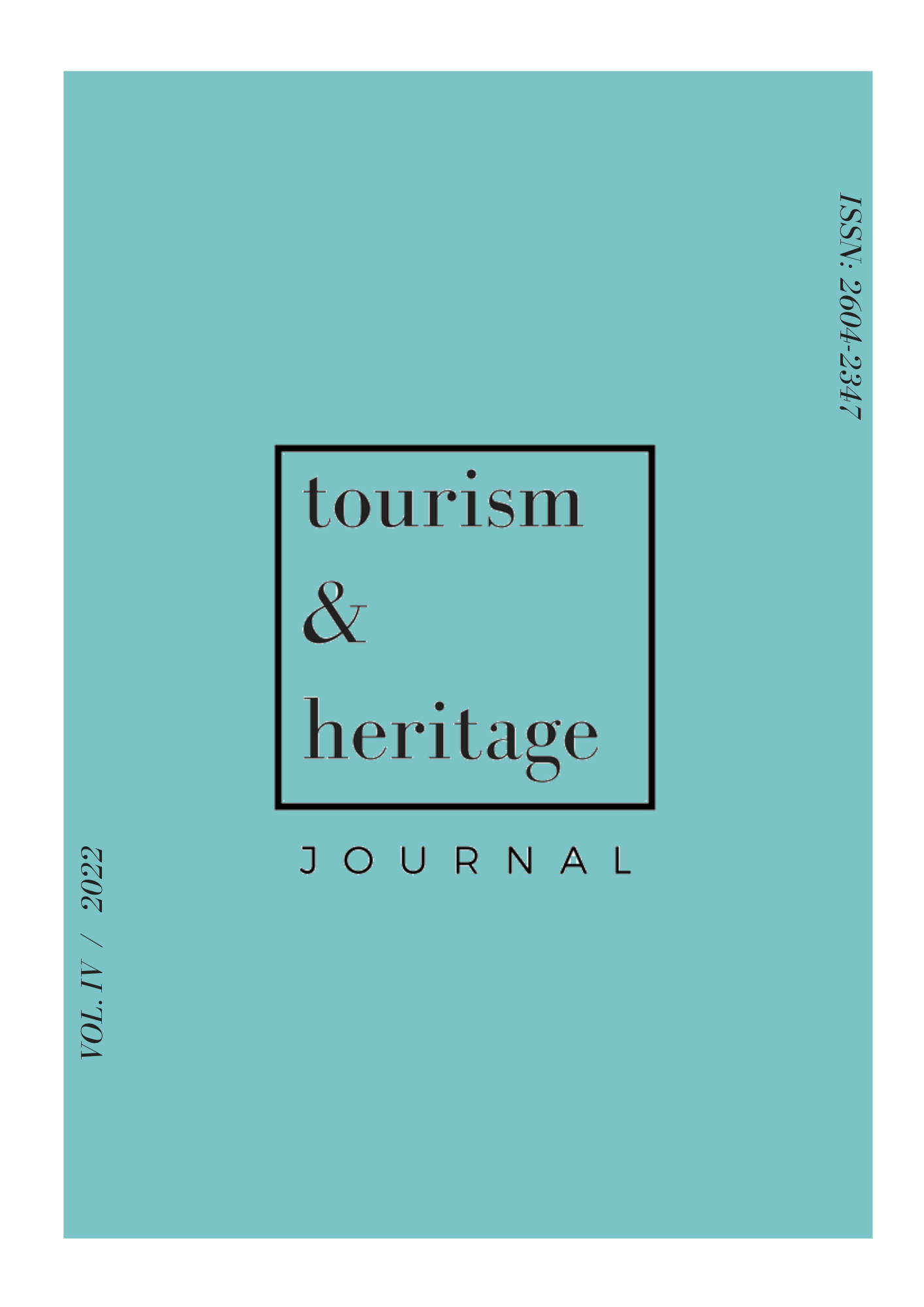 Downloads
How to Cite
Pérez, A. (2023). Smart Museums. Definition and presentation of a smart management model for museums. Tourism and Heritage Journal, 4, 126–139. https://doi.org/10.1344/THJ.2022.4.8
License
Copyright (c) 2023 Alba Pérez
This work is licensed under a Creative Commons Attribution 4.0 International License.
The authors who publish in this journal agree to the following terms:
Authors retain copyright and grant the journal the right of first publication.
Texts will be published under a Creative Commons Attribution License that allows others to share the work, provided they include an acknowledgement of the work's authorship, its initial publication in this journal and the terms of the license.