From mist to mist — through mist: translating «this kind of non-book»
Keywords:
Book of Disquiet, translation, edition, fragment
Abstract
In Italy there are presently five translations of The Book of Disquiet, each one featuring a very different text: either because the base edition from which each translator set off is different; or because the translators had a different attitude towards the base edition; or even because each translator imposed his or her own translation methodology onto the metatext. In these pages, I intend to reflect on the guidelines that I followed when translating and editing, for the third time in Italy, «this kind of non-book».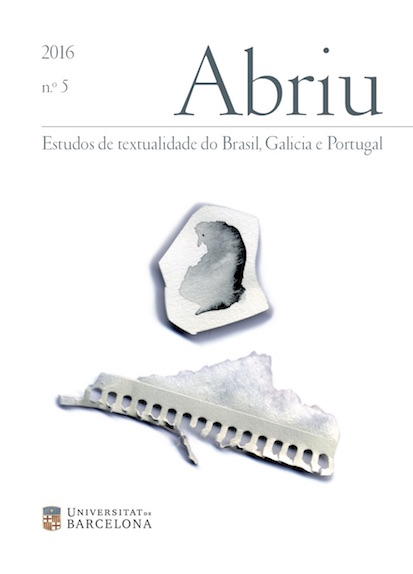 Downloads
How to Cite
Tocco, V. (2016). From mist to mist — through mist: translating «this kind of non-book». Abriu: Estudos De Textualidade Do Brasil, Galicia E Portugal, (5), 13–25. https://doi.org/10.1344/abriu2016.5.1
License
The Author retains ownership of the copyright of the article, unless the contrary is stated, and all rights not expressly granted in this agreement, including the non-exclusive right to reproduce, distribute, perform, and display the article in print or electronic form, and grants to Abriu: estudos de textualidade do Brasil, Galicia e Portugal the exclusive rights to first publication of the Article. The work will be available under a Creative Commons Attribution-Noncommercial-No Derivative Works license, by which the article must be credited to the Author and the Journal must be credited as first place of publication.