Serpentinites and serpentinites within a fossil subduction channel: La Corea mélange, eastern Cuba
Keywords:
Serpentinite, Subduction Channel, La Corea Mélange, Cuba, Caribbean
Abstract
A variety of metaultramafic (serpentinite) rocks in La Corea mélange, Sierra de Cristal, eastern Cuba, show differences in chemical, textural and mineralogical characteristics demonstrating a variety of protoliths. The mélange originated during the Cretaceous as part of the subduction channel associated with the Caribbean island arc. This mélange contains high pressure blocks in a serpentinite matrix and occurs at the base of the large tabular Mayarí-Cristal ophiolite. Two principal groups of serpentinites have been identified in the mélange: a) antigorite serpentinite, mainly composed of antigorite and b) antigorite-lizardite serpentinite, composed of mixtures of antigorite and lizardite and bearing distinctive porphyroblasts of diopsidic clinopyroxene. Antigorite serpentinites are closely related to tectonic blocks of amphibolite (representing subducted MORB) and constitute deep fragments of the serpentinitic subduction channel formed during hydration of the mantle wedge. The composition of the antigorite-lizardite serpentinites and the presence of clinopyroxene porphyroblasts in this type of rock suggest that abyssal lherzolite protoliths transformed into serpentinite before and during incorporation (as tectonic blocks) in the shallow part of the subduction channel. Although the studied rocks have different origin, mineralogical compositions and textures, they display similar PGE compositions, suggesting that these elements experienced no significant redistribution during metamorphism. Both types of serpentinites were exposed together in the La Corea mélange during the Late Cretaceous, during obduction of the overriding Mayarí-Baracoa ophiolitic belt that led to exhumation of the subduction channel (mélange)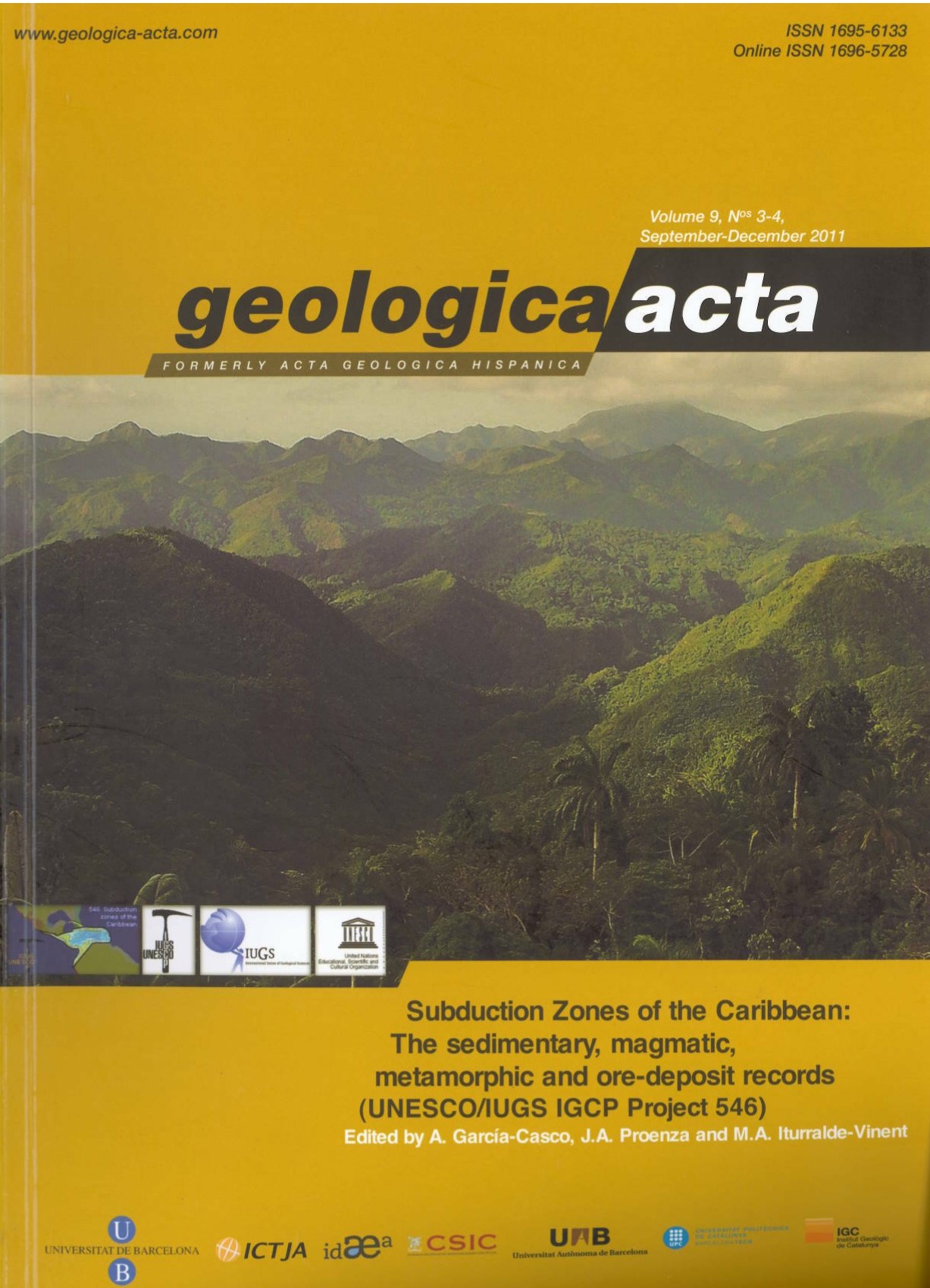 Downloads
License
This work is licensed under a Creative Commons Attribution-ShareAlike 4.0 International License.
Copyright
Geologica Acta is the property of the UB, GEO3BCN, IDAEA and UAB. Geologica Acta must be cited for any partial or full reproduction. Papers are distributed under the Attribution-Share Alike Creative Commons License. This license allows anyone to reproduce and disseminate the content of the journal and even make derivative works crediting authorship and provenance and distributing possible derivative works under the same or an equivalent license.
Author Rights
Authors retain the copyright on their papers and are authorized to post them on their own web pages or institutional repositories. The copyright was retained by the journal from the year 2003 until 2009. In all cases, the complete citation and a link to the Digital Object Identifier (DOI) of the article must be included. 
The authors can use excerpts or reproduce illustrations of their papers in other works without prior permission from Geologica Acta provided the source of the paper including the complete citation is fully acknowledged.