Palynology of the Iscayachi Formation (Cambro-Ordovician) from the Cordillera Oriental of Southern Bolivia: New data from the western margin of Gondwana
Keywords:
Manganese, Oxidation, Trace elements, Weathering
Abstract
The first late-Cambrian aged palynomorph assemblage of Bolivia is presented. The sampled material comes from the Cambro-Ordovician Iscayachi Formation cropping out in the Antenna of the Sierra de Sama, Tarija department, southern Bolivia. The palynomorph assemblage occurs in levels correlated to the Parabolina (Neoparabolina) frequens argentina trilobite biozone. It is comprised of Acanthodiacrodium spp., Cristallinium cambriense, Cymatiogalea cf. C. aspergillum, C. velifera, C. virgulta, Dasydiacrodium spp., Eliasum llaniscum, Impluviculus multiangularis, Ladogella rommelaerei, Ladogella sp., Leiofusa sp., Leiosphaeridia sp., Lophosphaeridium sp., Lusatia? sp., Micrhystridium sp., Poikilofusa squama, Poikilofusa sp., Polygonium dentatum, Retisphaeridium brayense, Saharidia fragilis, Solisphaeridium akrochordum, S. lucidum, Timofeevia phosphoritica, Timofeevia microretis, Vulcanisphaera africana and V. turbata. The assemblage provides elements of comparison with previously reported palynofloras in northern Argentina, eastern Newfoundland, southwestern Sardinia, Algeria, northern Spain, Baltica and Avalonia (Arctic Russia, East-European Platform). All microphytoplancton are indicative of cold water affinities as expected from the western margin of Gondwana, showing some Baltic affinities as well.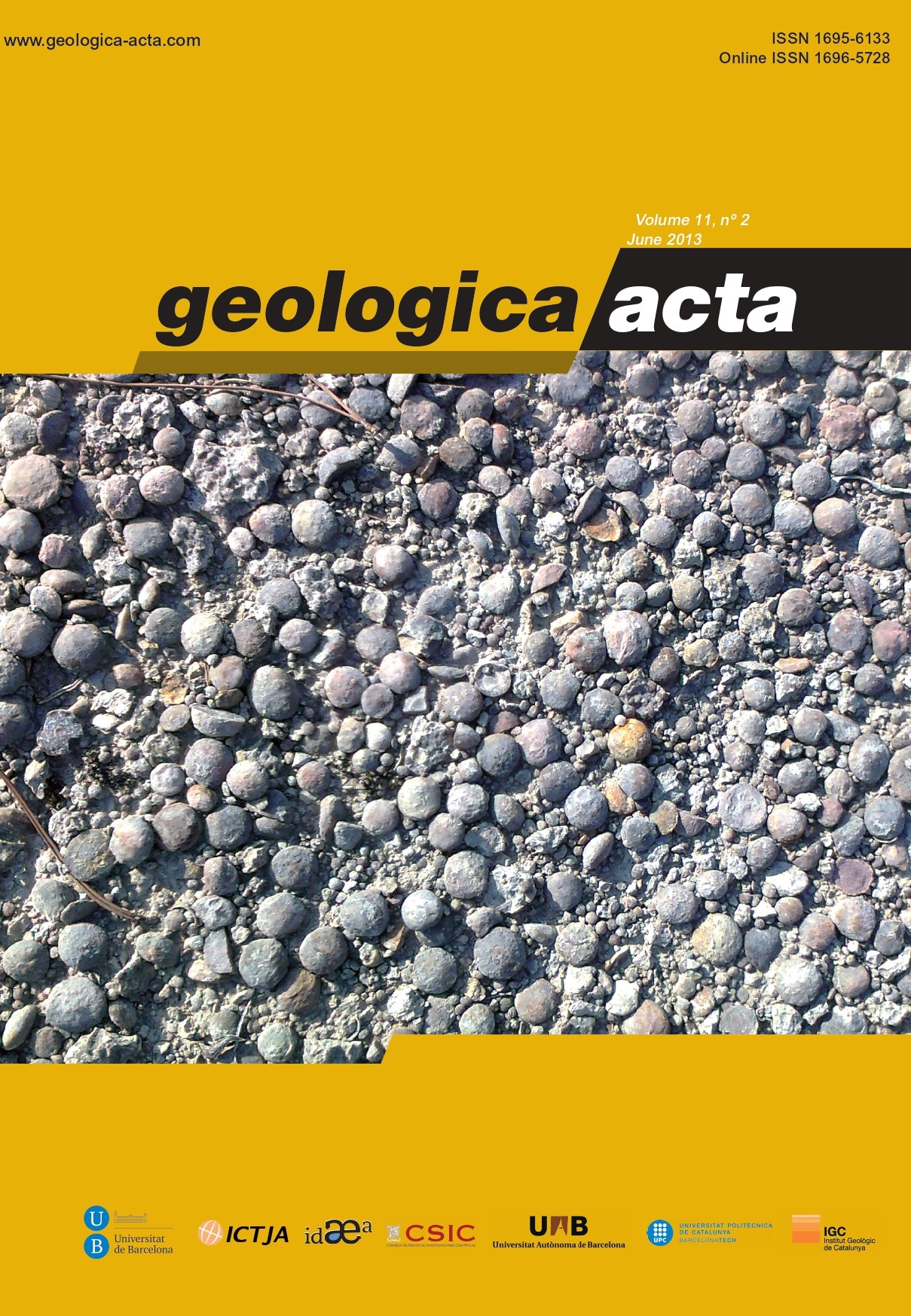 Downloads
License
This work is licensed under a Creative Commons Attribution-ShareAlike 4.0 International License.
Copyright
The commercial rights of the printed and online versions of Geologica Acta are property of the UB, ICTJA, IDAEA and UAB, and Geologica Acta must be cited for any partial or full reproduction.
The opinions and conclusions stated in each article are the exclusive responsability of the authors and do not necessarily coincide with those of the above mentioned institutions UB, ICTJA, IDAEA and UAB.
Author Rights
Authors retain the copyright on their papers (accepted manuscript, uncorrected proof and published paper) and are authorized to post them on their own Web page or their institutional repositories. In all cases, the complete citation and a link to the Digital Object Identifier (DOI) of the article must be included.
The authors can use excerpts or reproduce illustrations of their papers in other works without prior permission of Geologica Acta provided the source of the paper including the complete citation is fully acknowledged.
Papers are distributed under the Attribution-Share Alike Creative Commons License. This license allows others to alter, remix or build upon a paper and the resulting work may be distributed under the same or similar license to this one.