Geochemistry and petrology of three granitoid rock cores from the Nicaraguan Rise, Caribbean Sea: implications for its composition, structure and tectonic evolution
Keywords:
Caribbean, Nicaraguan Rise, Granitoids, Geochemistry, Arc rocks
Abstract
The Nicaraguan Rise is a major submarine structure of poorly known origin. Its lithologies have been studied from dredge hauls and land outcrops on the Greater Antilles and Central America and its structure from geophysical data. In this paper we present the first geochemical analyses for granitoids that were recovered during the 1970s from cores drilled on the Nicaragua Rise for oil prospecting. The three Nicaraguan Rise rocks are calk-alkaline granitoids, and lie in the high-K field for Caribbean granitoids similar to the Above Rocks, Jamaica and Terre Neuve, Haiti intrusions. All of these intrusions are considered to be of Late Cretaceous – Paleocene age. Key elements abundances - K, La, Ce, Nd, Hf, Zr and Sm - indicate that the three Nicaraguan Rise rocks present more affinity with mature oceanic arc rocks similar to other granitoids from the Greater Antilles rather than mature continental arcs. The Pb, Nd and Sr isotope data show no evidence of a continental component, thus indicating that the more eastern and northern submarine area of the Northern Nicaraguan Rise is not underlain by continental crust of the Chortis block. Although of similar age, the Nicaraguan Rise samples are different from the more depleted Cuban granitoids of the Sierra Maestra, though both show strong similarities in their 207Pb/204Pb composition. We postulate that the Northern Nicaraguan Rise was most likely a Caribbean oceanic arc system that may have interacted only at its margin with the continental blocks bounding the region to the west in the area of the Northern Honduran borderland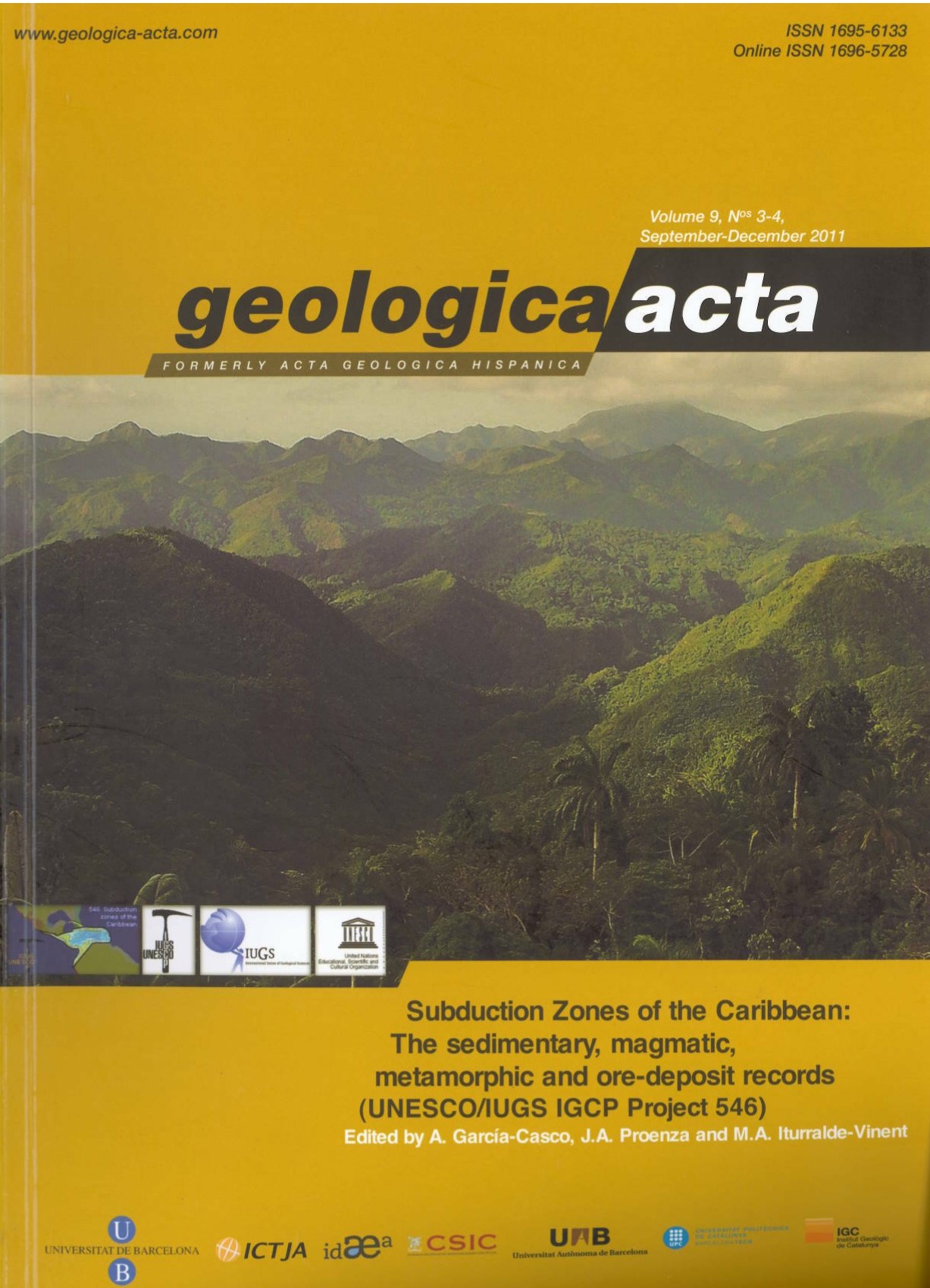 Downloads
License
Copyright
Geologica Acta is the property of the UB, GEO3BCN, IDAEA and UAB. Geologica Acta must be cited for any partial or full reproduction. Papers are distributed under the Attribution-Share Alike Creative Commons License. This license allows anyone to reproduce and disseminate the content of the journal and even make derivative works crediting authorship and provenance and distributing possible derivative works under the same license or an equivalent license.
Author Rights
Authors retain the copyright on their papers and are authorized to post them on their own web pages or institutional repositories. In all cases, the complete citation and a link to the Digital Object Identifier (DOI) of the article must be included.
The authors can use excerpts or reproduce illustrations of their papers in other works without prior permission from Geologica Acta provided the source of the paper including the complete citation is fully acknowledged.