Evolution and economic significance of listwaenites associated with Neoproterozoic ophiolites in South Eastern Desert, Egypt
Keywords:
Arabian-Nubian Shield, Neoproterozoic, Ophiolite, Serpentinite, Listwaenite, Fuchsite, Gold
Abstract
Most South Eastern Desert ophiolites are found along the Allaqi-Heiani-Gerf suture along the Egypt-Sudan border. Serpentinites, altered slices of upper mantle, are the main components of this suture and other sutures in the Arabian-Nubian Shield. Listwaenites are a distinctive alteration of serpentinized peridotite and are commonly found in shear zones that concentrate hydrothermal fluids involved in the formation of this type of rock. Along Wadi Allaqi area, listwaenites are distinguished into two main types: i) silica-rich, and ii) carbonate-rich. The presence of fuchsite in the former indicates that it is typical listwaenite, while the absence of fuchsite in the latter indicates listwaenite-like rock. These two types of listwaenites represent different stages of hydrothermal alteration. The large variations in their mineralogical and geochemical compositions are due to the different influence of reactions between protoliths and hydrothermal solutions, leading to different stages of metasomatic replacement. Ore minerals accompanying the listwaenites vary greatly both among and within separate occurrences. These variations depend on lots of factors, including the presence of shearing, P-T conditions, reactions with host rocks, and the composition of the hydrothermal fluids. Silica-rich listwaenite is well sheared and is more commonly ore bearing, while carbonate-rich listwaenite is less obviously sheared and shows less metal enrichment. The listwaenites of Wadi Allaqi area have a potential for gold mineralization (4-12ppm; 400-1100x enriched in comparison with serpentinites) since native gold occurs as inclusions in pyrite or as small disseminated specks along fractures. Base metals, mostly copper, lead and zinc, are also associated with listwaenites, but are more erratically distributed. Gold content increases with increasing SiO2 content of listwaenite. Carbonatization and silicification of ophiolitic peridotites can concentrate gold in the alteration products more than the parent rocks.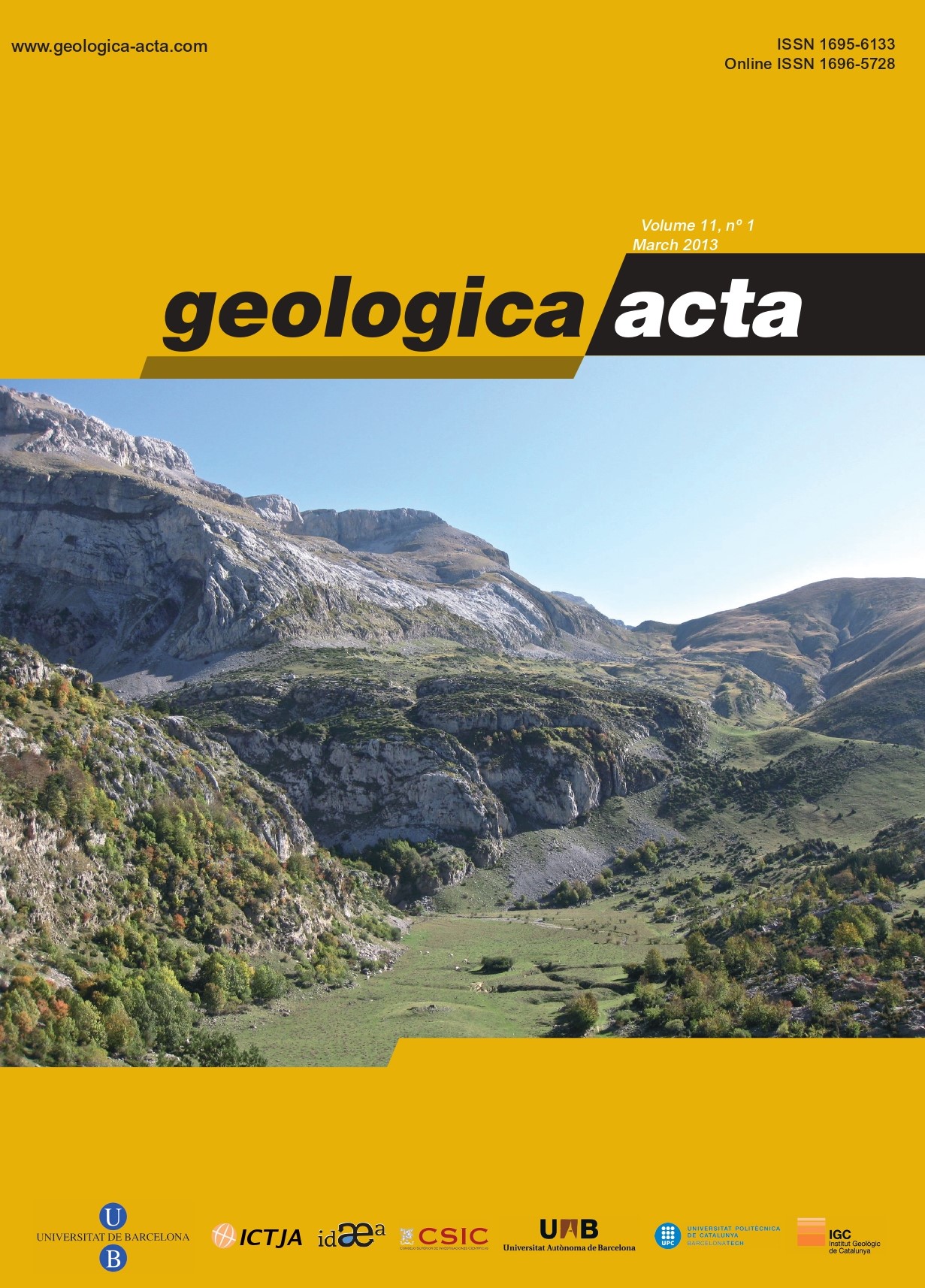 Downloads
License
Copyright
The commercial rights of the printed and online versions of Geologica Acta are property of the UB, ICTJA, IDAEA and UAB, and Geologica Acta must be cited for any partial or full reproduction.
The opinions and conclusions stated in each article are the exclusive responsability of the authors and do not necessarily coincide with those of the above mentioned institutions UB, ICTJA, IDAEA and UAB.
Author Rights
Authors retain the copyright on their papers (accepted manuscript, uncorrected proof and published paper) and are authorized to post them on their own Web page or their institutional repositories. In all cases, the complete citation and a link to the Digital Object Identifier (DOI) of the article must be included.
The authors can use excerpts or reproduce illustrations of their papers in other works without prior permission of Geologica Acta provided the source of the paper including the complete citation is fully acknowledged.
Papers are distributed under the Attribution-Share Alike Creative Commons License. This license allows others to alter, remix or build upon a paper and the resulting work may be distributed under the same or similar license to this one.