Systematics of Lutetian larger foraminifera and magneto-biostratigraphy from the South Pyrenean Basin (Sierras Exteriores, Spain)
Keywords:
SBZ recalibration, middle Eocene, southern Pyrenees, Paleogene biostratigraphy
Abstract
A systematic description of the Eocene larger foraminifera recorded in the South Pyrenean Basin (Sierras Exteriores) is presented herein. The large dataset provided in this work includes Nummulites and Alveolina species, along with a variety of other porcellaneous and hyaline taxa with lesser biostratigraphic relevance. Most of the larger foraminifera described in this work correspond to the Lutetian (SBZ13 to SBZ16 biozones) interval, but late Ypresian (SBZ11, Cuisian) and early Bartonian (SBZ17) shallow benthic zones have also been identified. A new species, Idalinaosquetaensis, is described. The systematic revision of middle to late Lutetian alveolines led to a reassessment of Alveolinafusiformis and the finding of two new precursor forms, described as Alveolina aff. fragilis and Alveolina aff. elongata. The new taxa fill in the gap existing so far in the middle to late Lutetian alveolinid biostratigraphy. Despite not being exclusive to SBZ16, these forms provide realiable biostratigraphic information in facies where Nummulites are not present. This realibility lies on the correlation of Nummulitesand Alveolina biostratigraphic markers in the same sections and their calibration to the global time scale through magnetostratigraphy. Magnetostratigraphic calibration of described taxa is provided, along with an update of the SBZ calibration to the Geological Time Scale (Gradstein et al., 2012).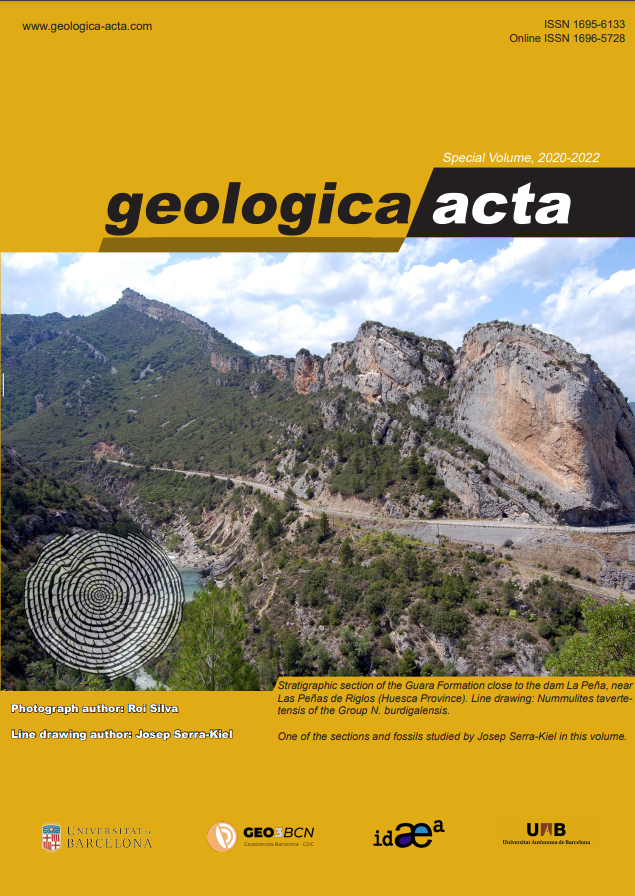 Section
Biochronology of the South Pyrenean Cenozoic, in memoriam Josep Serra-Kiel
License
This work is licensed under a Creative Commons Attribution-ShareAlike 4.0 International License.
Copyright
The commercial rights of the printed and online versions of Geologica Acta are property of the UB, ICTJA, IDAEA and UAB, and Geologica Acta must be cited for any partial or full reproduction.
The opinions and conclusions stated in each article are the exclusive responsability of the authors and do not necessarily coincide with those of the above mentioned institutions UB, ICTJA, IDAEA and UAB.
Author Rights
Authors retain the copyright on their papers (accepted manuscript, uncorrected proof and published paper) and are authorized to post them on their own Web page or their institutional repositories. In all cases, the complete citation and a link to the Digital Object Identifier (DOI) of the article must be included.
The authors can use excerpts or reproduce illustrations of their papers in other works without prior permission of Geologica Acta provided the source of the paper including the complete citation is fully acknowledged.
Papers are distributed under the Attribution-Share Alike Creative Commons License. This license allows others to alter, remix or build upon a paper and the resulting work may be distributed under the same or similar license to this one.