Palaeontology of the upper Turonian paralic deposits of the Sainte-Mondane Formation, Aquitaine Basin, France
Keywords:
Amber, Plants, Palynomorphs, Turonian, Cretaceous, France
Abstract
The upper Turonian lignite deposits of Sainte-Mondane, Dordogne (Aquitaine Basin, SW France), consist of clays bearing translucent, orange to red, amber micrograins. The amber exhibits different types of microbial inclusions. The clays contain several conifers including the genera Brachyphyllum, Frenelopsis and Glenrosa, and a few leaf fragments of eudicot angiosperms. Among the plant meso-fossils the occurrence of Costatheca, Spermatites and abundant, diverse megaspores, including species of Ariadnaesporites, Bacutriletes, Echitriletes, Erlansonisporites, Maexisporites, Minerisporites and Verrutriletes, is noteworthy. Pollen grains of the Normapolles group are important components of the palynomorph assemblage. The clays were deposited in a calm, estuarine or lagoonal, muddy environment. The overlying lignitic sands contain large fossil wood pieces of the conifer Agathoxylon, small solitary corals, fragmentary oysters and pectinids, echinoid spines, a few teeth of marine selachians and bony fishes, but no amber is present. These sands were deposited in a high-energy coastal marine environment.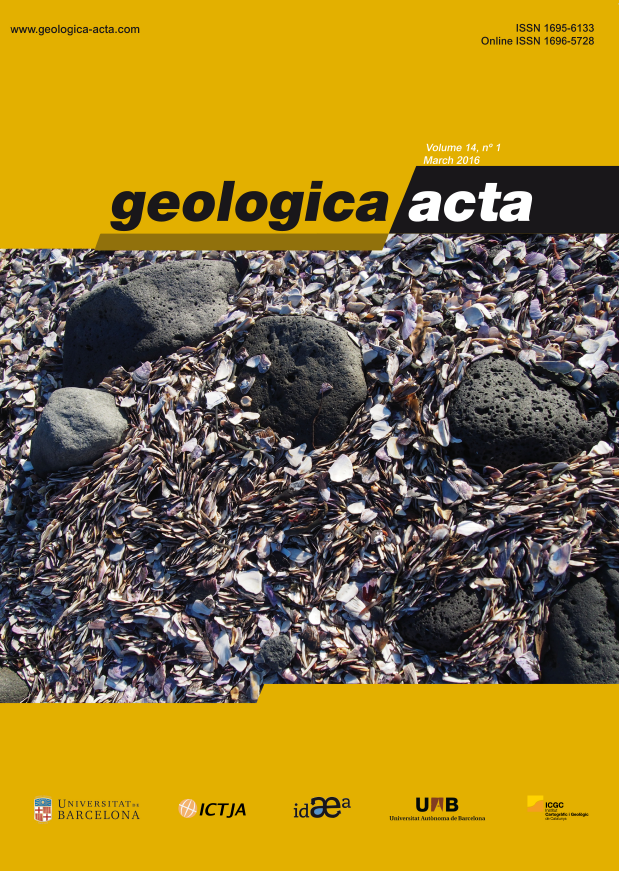 Downloads
License
Copyright (c) 2016 D. NÉRADEAU, S. SAINT MARTIN, D.J. BATTEN, J.-P. COLIN, V. DAVIERO-GOMEZ, V. GIRARD, B. GOMEZ, Y.A. NORHA, F. POLETTE, J.-P. PLATEL, J.-P. SAINT MARTIN, R. VULLO
This work is licensed under a Creative Commons Attribution-ShareAlike 4.0 International License.
Copyright
Geologica Acta is the property of the UB, GEO3BCN, IDAEA and UAB. Geologica Acta must be cited for any partial or full reproduction. Papers are distributed under the Attribution-Share Alike Creative Commons License. This license allows anyone to reproduce and disseminate the content of the journal and even make derivative works crediting authorship and provenance and distributing possible derivative works under the same or an equivalent license.
Author Rights
Authors retain the copyright on their papers and are authorized to post them on their own web pages or institutional repositories. The copyright was retained by the journal from the year 2003 until 2009. In all cases, the complete citation and a link to the Digital Object Identifier (DOI) of the article must be included. 
The authors can use excerpts or reproduce illustrations of their papers in other works without prior permission from Geologica Acta provided the source of the paper including the complete citation is fully acknowledged.