Peat-forming plants in the Maastrichtian coals of the Eastern Pyrenees
Keywords:
Palaeobotany, Calcareous algae, Peat swamps, Upper Cretaceous, Pyrenees
Abstract
The Lower Maastrichtian of Fumanya and neighbouring localities of the Vallcebre syncline (Eastern Pyrenees, Catalonia) provide the first taphonomic evidence for the hypothesis that cheirolepidiacean conifers were significant precursors of Maastrichtian Pyrenean coal. Most Frenelopsis-rich lignite beds do not bear rootlet marks, suggesting that the original peat was detrital. Sedimentological and taphonomic evidence indicates deposition in the margins of a lagoon after the transport of the cheirolepidiacean remains by flotation. The same parautochtonous assemblage includes complete impressions Sabalites longirhachis leaves and large impressions of logs attributed to the same palm trees. Other parautochthonous or allochthonous plant megaremains include extremely rare cycadalean and monocot leaves and abundant minute angiosperm seeds. Rootlet marks associated with thin lignite beds occur at the top of some charophyte limestones. The charophyte association, dominated by in situ accumulation of Peckichara and Microchara gyrogonites, suggests that these limestones were deposited in shallow, freshwater lakes and that the corresponding peat mires were limnic rather than paralic in nature. The botanical affinity of plant remains associated with these root-bearing lignites is uncertain. Palynological analysis showed abundant bisaccates, with less abundant fern spores and freshwater algal oospores. Locally, the abundant rootlet marks were associated with large brush-like rooting structures attributed to Sabalites longirhachis palms. Our results show that, at the beginning of the Maasrichtian, cheirolepidiacean conifers were still significant peat-producing plants, although, unlike analogous Lower Cretaceous ones, they shared this role with rare angiosperms, such as palms.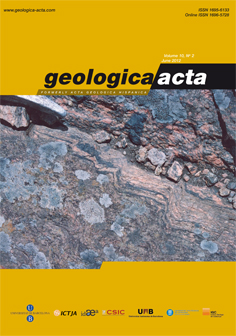 Downloads
License
Copyright
Geologica Acta is the property of the UB, GEO3BCN, IDAEA and UAB. Geologica Acta must be cited for any partial or full reproduction. Papers are distributed under the Attribution-Share Alike Creative Commons License. This license allows anyone to reproduce and disseminate the content of the journal and even make derivative works crediting authorship and provenance and distributing possible derivative works under the same license or an equivalent license.
Author Rights
Authors retain the copyright on their papers and are authorized to post them on their own web pages or institutional repositories. In all cases, the complete citation and a link to the Digital Object Identifier (DOI) of the article must be included.
The authors can use excerpts or reproduce illustrations of their papers in other works without prior permission from Geologica Acta provided the source of the paper including the complete citation is fully acknowledged.