Geochemical, isotopic, and zircon (U-Pb, O, Hf isotopes) evidence for the magmatic sources of the volcano-plutonic Ollo de Sapo Formation, Central Iberia
Keywords:
SHRIMP, Isotopes, Extension, Gneisses, Magmatic source
Abstract
The Ollo de Sapo Formation comprises variably metamorphosed felsic peraluminous volcanic rocks and highlevel granites that crop out over some 600km from the Cantabrian coast to central Spain in the northern part of the Central Iberian Zone. The Ollo de Sapo magmatism is not obviously connected with any major tectonic or metamorphic event so its origin is controversial. Some authors, based on trace-elements, have proposed that the Ollo de Sapo magmas originated in a supra-subduction setting but others, based on abnormally high zircon inheritance and field and structural data, favored a rifting environment. Here we present new oxygen and hafnium isotope data from the very characteristic Ollo the Sapo zircons, which in most cases, consist of ca. 485Ma rims and ca. 590-615Ma cores. We found that the Cambrian-Ordovician rims yielded unimodal distributions that cluster around ∂18O = 10, typical of S-type magmas formed from melting of altered crust. The Ediacaran cores, in contrast, cluster around ∂18O = 6.5, consistent with being arc-magmas. Rims and cores have the same average Hf isotope composition, but the rims are considerably more uniform. These data, coupled with existing wholerock element and Sr and Nd isotopic data, indicate that the Ollo de Sapo were S-type magmas that resulted from anatexis of younger-than-600Ma immature sediments mostly derived from different Ediacaran igneous rocks with a wide range of Hf isotope composition.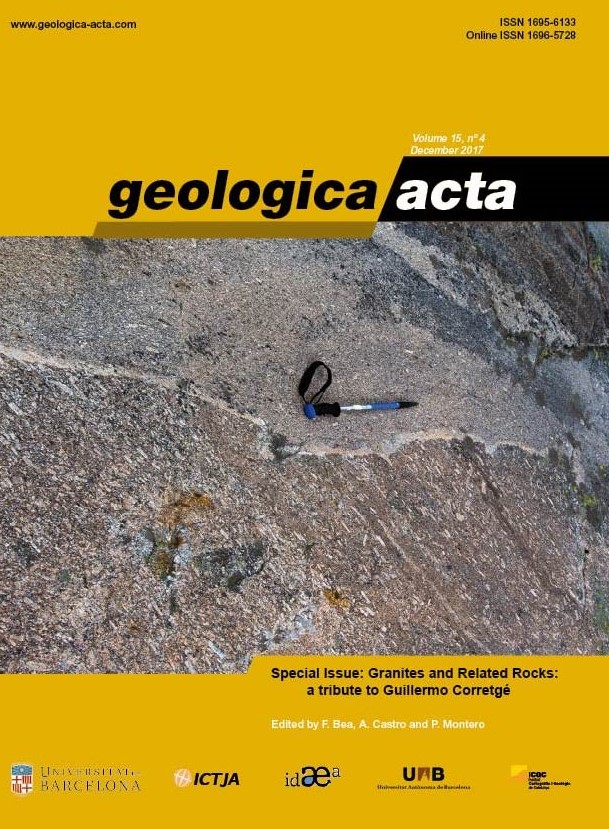 Downloads
Section
Granites and Related Rocks. A tribute to Guillermo Corretgé
License
Copyright
The commercial rights of the printed and online versions of Geologica Acta are property of the UB, ICTJA, IDAEA and UAB, and Geologica Acta must be cited for any partial or full reproduction.
The opinions and conclusions stated in each article are the exclusive responsability of the authors and do not necessarily coincide with those of the above mentioned institutions UB, ICTJA, IDAEA and UAB.
Author Rights
Authors retain the copyright on their papers (accepted manuscript, uncorrected proof and published paper) and are authorized to post them on their own Web page or their institutional repositories. In all cases, the complete citation and a link to the Digital Object Identifier (DOI) of the article must be included.
The authors can use excerpts or reproduce illustrations of their papers in other works without prior permission of Geologica Acta provided the source of the paper including the complete citation is fully acknowledged.
Papers are distributed under the Attribution-Share Alike Creative Commons License. This license allows others to alter, remix or build upon a paper and the resulting work may be distributed under the same or similar license to this one.