Petrology of the Porriño late-Variscan pluton from NW Iberia. A model for post-tectonic plutons in collisional settings
Keywords:
Post-orogenic magmatism, Variscan orogen, Postectonic granites, Monzogranites, Enclaves
Abstract
The Variscan orogen of NW Iberia contains abundant syn- and post-tectonic granitoids. The post-tectonic granitoids are metaluminous to slightly peraluminous, I-type granites, monzogranites ± granodiorites ± tonalites. The Porriño pluton studied here is a representative example. It consists of two units: i) a pink-red, peraluminous, biotite granite and ii) a gray, metaluminous to peraluminous, biotite (± amphibole ± titanite) monzogranite, including maficintermediate enclaves. SHRIMP U-Pb dating yielded 290-295Ma ages for all the units. The mineralogy and geochemistry show that the pink-red granite has features of I- and A-type granites, whereas the gray monzogranite and enclaves are I-types. Sr isotopes show scattered values for the pink-red granite (87Sr/86Sr295Ma ≈ 0.702-0.710) and uniform values for the gray monzogranite and enclaves (87Sr/86Sr295Ma≈ 0.705-0.706). Geochemical results indicate a peritectic entrainment of clinopyroxene + orthopyroxene ± Ca-plagioclase ± ilmenite ± garnet, and minor accessory phases (± zircon ± titanite ± apatite) into a melt similar to the leucocratic gray monzogranite. A mafic-intermediate source is proposed for the gray monzogranite and its enclaves. Restitic protoliths generated granitic melts with A-type features such as the pink-red granite. The I-type nature of many post-tectonic granitoids could be explained by the previous extraction of S-type syn-tectonic granites that left restites and less fertile rocks. Late orogenic new melting affected the previously unmelted and more mafic lithologies of the lower-middle crust, and gave rise to I-type granitoids. Repeated melting events affecting such lithologies and previous restites could have generated granitic melts with A-type features.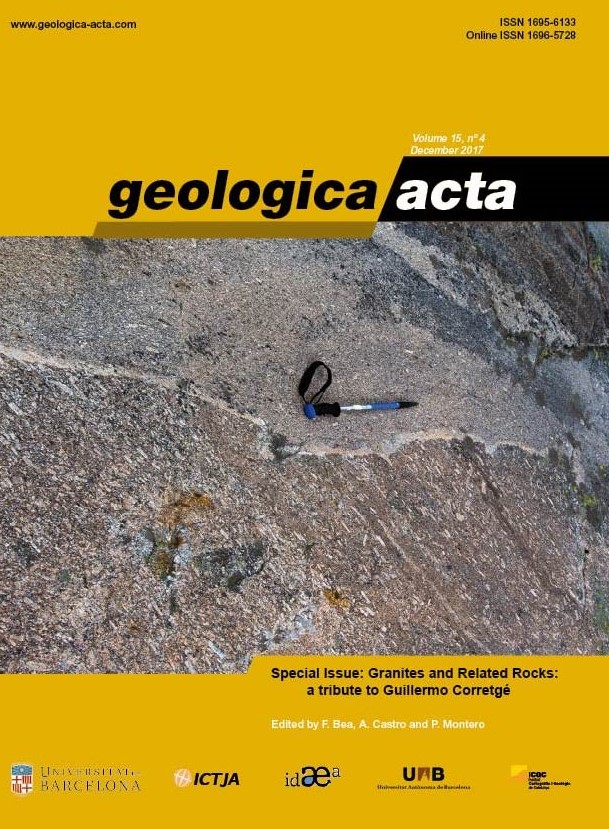 Downloads
Section
Granites and Related Rocks. A tribute to Guillermo Corretgé
License
Copyright
The commercial rights of the printed and online versions of Geologica Acta are property of the UB, ICTJA, IDAEA and UAB, and Geologica Acta must be cited for any partial or full reproduction.
The opinions and conclusions stated in each article are the exclusive responsability of the authors and do not necessarily coincide with those of the above mentioned institutions UB, ICTJA, IDAEA and UAB.
Author Rights
Authors retain the copyright on their papers (accepted manuscript, uncorrected proof and published paper) and are authorized to post them on their own Web page or their institutional repositories. In all cases, the complete citation and a link to the Digital Object Identifier (DOI) of the article must be included.
The authors can use excerpts or reproduce illustrations of their papers in other works without prior permission of Geologica Acta provided the source of the paper including the complete citation is fully acknowledged.
Papers are distributed under the Attribution-Share Alike Creative Commons License. This license allows others to alter, remix or build upon a paper and the resulting work may be distributed under the same or similar license to this one.