Zircon and allanite U-Pb ID-TIMS ages of vaugnerites from the Calzadilla pluton, Salamanca (Spain): dating mantle-derived magmatism and post-magmatic subsolidus overprint
Keywords:
Vaugnerite, Zircon, Allanite, U-Pb dating, Subsolidus overprint, Ledesma.
Abstract
Basic to intermediate high-K, high-Mg mantle-derived rocks occur throughout the Iberian Massif and are particularly important in the Tormes Dome, where vaugnerites form several stocks and small plutons. One of the largest and geochemically most variable among these plutons is the Calzadilla pluton in the Tormes Dome that crystallized at 318 ± 1.4Ma (Bashkirian; U-Pb TIMS zircon). This age reveals that the vaugnerite pluton was emplaced during the transition from late D2 extensional deformation to early D3 contractional deformation (319 to 317Ma). Large-scale extension in the area resulted, on one hand, in extensive anatexis in the crust due to quasiisothermal decompression and mica-dehydration melting and, on the other hand, in the upwelling of the mantle, which induced partial melting of the enriched domains in the lithospheric mantle. The driving reason why crustal and mantle melts were coeval is extension. The U-Pb ID-TIMS age of allanite is not related to the emplacement nor cooling of the Calzadilla vaugnerite, but it seems to be related to a younger subsolidus overprint ca. 275Ma that, in the scale of the Central Iberian Zone, corresponds to a period of hydrothermal alteration, including episyenite formation and tungsten mineralization.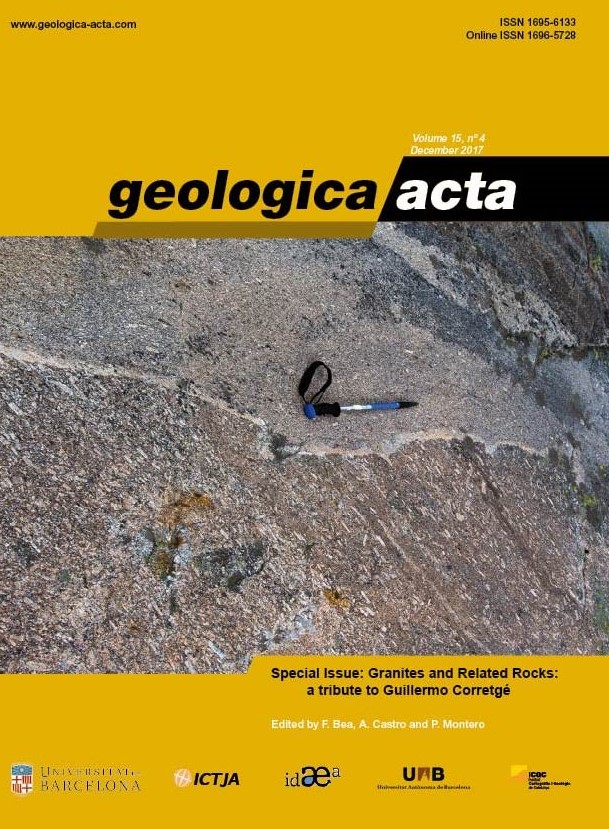 Downloads
Section
Granites and Related Rocks. A tribute to Guillermo Corretgé
License
Copyright
The commercial rights of the printed and online versions of Geologica Acta are property of the UB, ICTJA, IDAEA and UAB, and Geologica Acta must be cited for any partial or full reproduction.
The opinions and conclusions stated in each article are the exclusive responsability of the authors and do not necessarily coincide with those of the above mentioned institutions UB, ICTJA, IDAEA and UAB.
Author Rights
Authors retain the copyright on their papers (accepted manuscript, uncorrected proof and published paper) and are authorized to post them on their own Web page or their institutional repositories. In all cases, the complete citation and a link to the Digital Object Identifier (DOI) of the article must be included.
The authors can use excerpts or reproduce illustrations of their papers in other works without prior permission of Geologica Acta provided the source of the paper including the complete citation is fully acknowledged.
Papers are distributed under the Attribution-Share Alike Creative Commons License. This license allows others to alter, remix or build upon a paper and the resulting work may be distributed under the same or similar license to this one.