Late-Variscan multistage hydrothermal processes unveiled by chemical ages coupled with compositional and textural uraninite variations in W-Au deposits in the western Spanish Central System Batholith
Keywords:
Uraninite, U-Pb dating, W-Au deposits, Spanish Central System Batholith, Variscan belt.
Abstract
The scheelite skarn from Los Santos and the W-Au veins from El Cabaco district, located in the Spanish Central System Batholith (SCSB), are some of the best-known tungsten ore deposits in Spain. Uraninite is an accessory mineral in both deposits, which underwent several hydrothermal flow events. Chemical and textural characteristics, as well as electron microprobe U-Th-Pb uraninite chemical data from the different stages of the skarn and the vein-type mineralizations, are presented here. Based on these data the uraninite was able to be classified into two groups. Group I uraninite has an octahedral habit and occurs as inclusions in K-feldspar relicts of the leucogranite related to Los Santos skarn formation. It shows high Th (6.95 to 8.51wt.% ThO2) and high Rare Earth Elements (REEs) contents (0.55 to 1.38wt.% ∑REE2O3). Group II uraninite occurs i) associated to El Cabaco granite, in a greenish selvage-style greisen and its reddish envelope and in the mineralized rimming quartz veins and ii) in Los Santos high-temperature endoskarn and anorthite skarn, where it is associated with U-rich mica. This uraninite type has lower Th and ∑REE2O3contents than Group-I uraninite. The mineral chemistry and the assemblage and textural relationships suggest that Group-I uraninite is magmatic and the attained U-Th-Pb chemical age of 300±4Ma is interpreted as the magmatic age of the skarn-forming aplite granites in the western part of the SCSB. Group-II uraninite includes two events: i) hydrothermal uraninite, which yields an age of 295±2Ma, dates a strong alkali mobilization and early tungsten deposition and ii) a later hydrothermal process, around 287±4Ma, that resulted in sulfides and late scheelite precipitation and widespread silicification. Finally, the gold deposition is younger than this silicification according to textural criteria. Therefore, W-Au deposits in the western part of the SCSB were formed by superposition of several processes that took place some 15Ma after the skarn-forming granite crystallized. Comparable W, W-Au and U deposits in the Variscan orogenic belt show a similar timing of hydrothermal events, suggesting that the hydrothermal history was controlled by large-scale Late-Variscan tectonic processes.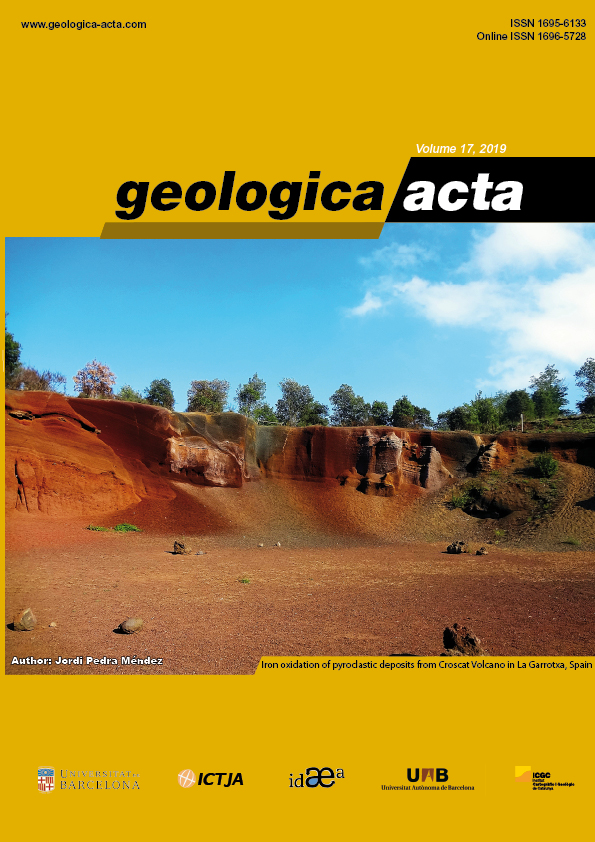 Downloads
License
Copyright
The commercial rights of the printed and online versions of Geologica Acta are property of the UB, ICTJA, IDAEA and UAB, and Geologica Acta must be cited for any partial or full reproduction.
The opinions and conclusions stated in each article are the exclusive responsability of the authors and do not necessarily coincide with those of the above mentioned institutions UB, ICTJA, IDAEA and UAB.
Author Rights
Authors retain the copyright on their papers (accepted manuscript, uncorrected proof and published paper) and are authorized to post them on their own Web page or their institutional repositories. In all cases, the complete citation and a link to the Digital Object Identifier (DOI) of the article must be included.
The authors can use excerpts or reproduce illustrations of their papers in other works without prior permission of Geologica Acta provided the source of the paper including the complete citation is fully acknowledged.
Papers are distributed under the Attribution-Share Alike Creative Commons License. This license allows others to alter, remix or build upon a paper and the resulting work may be distributed under the same or similar license to this one.