The beekeeping and beeswax industry in rural Galicia (1750-1950)
Keywords:
beeswax industry, rural industry, beeswax, Galicia
Abstract
This paper aims to contribute to our knowledge of the beeswax industry through the historical study of this economic activity in the territory of Galicia during a historical period that covers from the mid-eighteenth century to the mid-twentieth century. The article notes the relevance of the Galician beekeeping and beeswax industry in certain rural areas of Galicia. We have been able to characterize the different stages of this trade linked with bees, and the main specific heritage elements associated with the beeswax industry, wax presses and threshing floors. The paper allows us to conclude that the beeswax industry was a very important activity in places like Forcarei and Covelo, where it is still possible to find specific heritage related to the pressing and bleaching of beeswax.
Downloads
Download data is not yet available.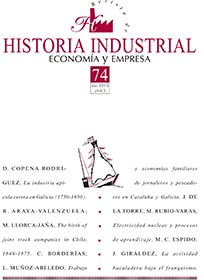 Downloads
License
El/la autor/a cede los derechos al/la editor/a. Creative Commons
El/la autor/a que publica en esta revista está de acuerdo con los términos siguientes:
El/la autor/a cede en exclusiva todos los derechos de propiedad intelectual al/la editor/a para todo el mundo y toda la duración de los derechos de propiedad intelectual vigentes aplicables.
El/la editor/a difundirá los textos con la licencia de reconocimiento de Creative Commons que permite compartir la obra con terceros, siempre que éstos reconozcan su autoría, su publicación inicial en esta revista y las condiciones de la licencia.