Agriculture and economic growth: Biological innovations in European wheat production, 1820-1940
Keywords:
Agriculture, Technological Change, Wheat
Abstract
This article analyzes the biological innovations in the European wheat sector during the XIXth century and the first third of the XXth century. In short, it deals with the different technical and economical circumstances that impelled them, the new wheat types that appeared and the different results in the major producer areas. The paper shows that these innovations were concentrated mostly in Atlantic Europe, while they were more difficult to implement in the Mediterranean agriculture, and that this circumstance conditioned the different patterns of agrarian growth.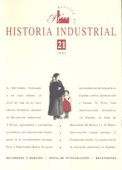 Downloads
License
El/la autor/a cede los derechos al/la editor/a. Creative Commons
El/la autor/a que publica en esta revista está de acuerdo con los términos siguientes:
El/la autor/a cede en exclusiva todos los derechos de propiedad intelectual al/la editor/a para todo el mundo y toda la duración de los derechos de propiedad intelectual vigentes aplicables.
El/la editor/a difundirá los textos con la licencia de reconocimiento de Creative Commons que permite compartir la obra con terceros, siempre que éstos reconozcan su autoría, su publicación inicial en esta revista y las condiciones de la licencia.