Government interventionism in the late Francoist regime: Industrial regulation in Spain, 1963-1980
Keywords:
Industrial Regulation, Regulator's Capture, Spanish Economy, Firm's Size
Abstract
This article analyses Spanish industrial from the early 1960s until the end of Franco's regime. The central point is that the liberalisation push of the 1959 Stabilization Plan finished in a few years and then a interventionist period returned. Laws of this period and the theoretical objectives of plans related to size increase of factories are analysed. The most praiseworthy hypothesis about this regulatory failure is a «Regulator's Capture» by the entrepreneurs in order to impose barriers to entrance. The evidences confirm this was the case in oligopolistic industries, while restructuration reasons stood behind regulation in textile sectors and reinforcement of the State in regulated public industries. Thus, the interaction between the regulating State and the regulated firms produced a permanent conflict and results that varied in industry from one sector to another.
Downloads
Download data is not yet available.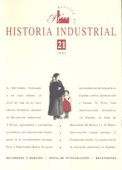 Downloads
License
El/la autor/a cede los derechos al/la editor/a. Creative Commons
El/la autor/a que publica en esta revista está de acuerdo con los términos siguientes:
El/la autor/a cede en exclusiva todos los derechos de propiedad intelectual al/la editor/a para todo el mundo y toda la duración de los derechos de propiedad intelectual vigentes aplicables.
El/la editor/a difundirá los textos con la licencia de reconocimiento de Creative Commons que permite compartir la obra con terceros, siempre que éstos reconozcan su autoría, su publicación inicial en esta revista y las condiciones de la licencia.