Institutions, businessmen and market: the industrialisation of Navarre during Franco's regime
Keywords:
Institutions, Entrepreneurs, Industry, Navarre
Abstract
From a dual perspective of the regional economic development and the theory of economic planning, this article tackles an analysis of the factors that explain why a territory of reduced dimensions and scarce demography industrialised during Franco's dictatorship. In Navarre the institutional intervention gave visibility to the impulse of the market forces. Foreign and native businessmen, business opportunities, fiscal advantages, and a strategic location between some of Spain's principal manufacturing centres, contributed to this region's profound process of social and economic change. The manufacturing model followed the pattern created by the car industry and metal industry. This success exhibits a striking difference in comparison to the relative failure of the development poles created by López Rodó's Commisariat.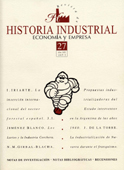 Downloads
License
El/la autor/a cede los derechos al/la editor/a. Creative Commons
El/la autor/a que publica en esta revista está de acuerdo con los términos siguientes:
El/la autor/a cede en exclusiva todos los derechos de propiedad intelectual al/la editor/a para todo el mundo y toda la duración de los derechos de propiedad intelectual vigentes aplicables.
El/la editor/a difundirá los textos con la licencia de reconocimiento de Creative Commons que permite compartir la obra con terceros, siempre que éstos reconozcan su autoría, su publicación inicial en esta revista y las condiciones de la licencia.