Origins and development of the fish tinning industry in Andalousia (1879-1936)
Keywords:
Tinning Industry, Andalousia, "Almadrabas", Fishing
Abstract
This article analizes the evolution of the Andalusian fish tinning industry since its beginning in 1789 to the Spanish civil war in 1936. Along these pages we study the internal and external factors that made its birth possible and its several phases and periods. Within these periods we analize the structural changes, the relations between the fishing sector and the tinning sector and the production levels itemized district by district. They are related to two basic factors: the potentialities and limitations of the fishing sector and the evolution of the main external markets, where most of the tinned fish was sold, given the small size of the Spanish domestic market. We have tried to underline the sizable importance of the Andalusian tinning industry within the Spanish context, the different models of tinning industry developement and, above all, the different problems faced by the two producing areas of Huelva and Cádiz.
Downloads
Download data is not yet available.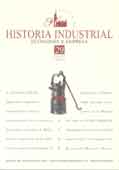 Downloads
License
El/la autor/a cede los derechos al/la editor/a. Creative Commons
El/la autor/a que publica en esta revista está de acuerdo con los términos siguientes:
El/la autor/a cede en exclusiva todos los derechos de propiedad intelectual al/la editor/a para todo el mundo y toda la duración de los derechos de propiedad intelectual vigentes aplicables.
El/la editor/a difundirá los textos con la licencia de reconocimiento de Creative Commons que permite compartir la obra con terceros, siempre que éstos reconozcan su autoría, su publicación inicial en esta revista y las condiciones de la licencia.