The livestock ovine of the Monastery of Guadalupe, 1598-1698: lower land and labour costs, and improved profit margin
Keywords:
Cattle, Stabled Sheep, Extremadura, Wool, XVIIth century
Abstract
A number of economic variables pertaining to the stabled sheep flock of the Guadalupe Monastery are analysed in this paper. Variables include production, cost and profit margin, as derived from the Monastery's Cattle Sheet's (Hojas de Ganado) in the XVIIth century. However, a broader objective is also aimed for in this paper: to shed some light on the movements in the profit margin of the main stabled sheep exploitations in Extremadura and Castile in the XVIIth century, and for that purpose price series of yields and factor cost are used. Main conclusions of the paper are: 1) economic results in the Guadalupe Monastery were rather poor until 1640 and improved considerably afterwards and 2) the improved profit margin was mostly the result of lower land labour costs and not so much of higher prices for the two main yields, wool and meat.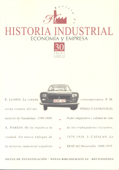 Downloads
License
El/la autor/a cede los derechos al/la editor/a. Creative Commons
El/la autor/a que publica en esta revista está de acuerdo con los términos siguientes:
El/la autor/a cede en exclusiva todos los derechos de propiedad intelectual al/la editor/a para todo el mundo y toda la duración de los derechos de propiedad intelectual vigentes aplicables.
El/la editor/a difundirá los textos con la licencia de reconocimiento de Creative Commons que permite compartir la obra con terceros, siempre que éstos reconozcan su autoría, su publicación inicial en esta revista y las condiciones de la licencia.