SEAT in developing Spain, 1948-1972
Keywords:
Industria del automóvil, SEAT, FIAT, INI, Políticas estratégicas, De
Abstract
The experience of SEAT during 1948-72 constitutes a significant case of success in the adoption of strategic policies. The support to a 'national champion' located in a key industrial district, transformed Spain into an automobile net exporter. In addition, the long term cooperation with FIAT led to the reduction of royalties paid by SEAT and the creation of its R + D center. The alliance between FIAT and Banco Urquijo helped to balance public priorities with market rationality. Up to 1972 SEAT was one of the most profitable firms participated by the public holding INI and performed reasonably well in relation both to average Spanish industrial firms and European car producers. Nevertheless, in 1972 the Spanish government decided to reopen its market to Ford. This decision inaugurated a change of policies, which woud induce a tremendous crisis in the company of Barcelona. It would also erode the confidence of FIAT in the Spanish administration.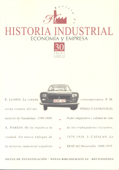 Downloads
License
El/la autor/a cede los derechos al/la editor/a. Creative Commons
El/la autor/a que publica en esta revista está de acuerdo con los términos siguientes:
El/la autor/a cede en exclusiva todos los derechos de propiedad intelectual al/la editor/a para todo el mundo y toda la duración de los derechos de propiedad intelectual vigentes aplicables.
El/la editor/a difundirá los textos con la licencia de reconocimiento de Creative Commons que permite compartir la obra con terceros, siempre que éstos reconozcan su autoría, su publicación inicial en esta revista y las condiciones de la licencia.