Labour power, dependent factors, intangibles and markets. The leverages of economic growth in the Balearic Island, 1800-2000
Keywords:
Islas Baleares, Crecimiento regional, Intangibles económicos, Desarrollo comercial
Abstract
This article emphasises the importance in a regional economy such as the Balearic Islands of growth factors that are different from those conventionally considered in a large part of the literature on economics (existence of prime materials, location of energy sources, training of human capital, development of public capital). It asserts the idea that economic experience and informal learning processes, combined with social and economic agents' capacity to adapt –which determines the plury-activity of the workforce–, led to Balearic leadership prior to the appearance of mass tourism. According to the author, this cannot be explained convincingly without the help of the dependent factors that created a solid basis in which connections with markets were crucial. Evolution in Balearic income is the common theme under study, on the basis of data available from the early nineteenth century to the dawn of the twenty-first century. This is therefore a recurrent, unimprovissed growth that should be taken into account, along with the models that are supported by the strength of investment and progress in cutting-edge innovation and technology.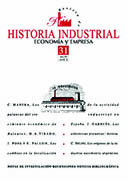 Downloads
License
El/la autor/a cede los derechos al/la editor/a. Creative Commons
El/la autor/a que publica en esta revista está de acuerdo con los términos siguientes:
El/la autor/a cede en exclusiva todos los derechos de propiedad intelectual al/la editor/a para todo el mundo y toda la duración de los derechos de propiedad intelectual vigentes aplicables.
El/la editor/a difundirá los textos con la licencia de reconocimiento de Creative Commons que permite compartir la obra con terceros, siempre que éstos reconozcan su autoría, su publicación inicial en esta revista y las condiciones de la licencia.