Fordism in the european car industry and SEAT (1950-1970)
Keywords:
Car Industry, Fordism, SEAT, FIAT
Abstract
This article deals with the transfer of the work rationalization criteria in Spain between 1950 and 1970, using the case of the company Seat. The continuous revision of the productive technology, imposed by Fiat, allowed Seat to achieve a large-scale economical activity and a good position in Europe. However, at the end of the sixties, Seat suffered the same organizational problems than Fiat, company from which it depended. In front of the productivity dilemma, the productive system became excessively rigid to face an increasingly diversified demand. In addition, the rise in the work pace and the difficult labour conditions lead not only to the consequences of the Ford system but also to the breeding ground for labour troubles that, together with other factors, contributed to the withdrawal of Seat by Fiat in 1980.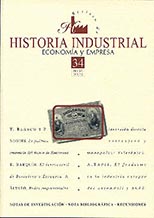 License
El/la autor/a cede los derechos al/la editor/a. Creative Commons
El/la autor/a que publica en esta revista está de acuerdo con los términos siguientes:
El/la autor/a cede en exclusiva todos los derechos de propiedad intelectual al/la editor/a para todo el mundo y toda la duración de los derechos de propiedad intelectual vigentes aplicables.
El/la editor/a difundirá los textos con la licencia de reconocimiento de Creative Commons que permite compartir la obra con terceros, siempre que éstos reconozcan su autoría, su publicación inicial en esta revista y las condiciones de la licencia.