Technology, firm and market in Spanish biscuit industry, 1790-1936
Keywords:
Biscuit Industry, Food Market, Bussiness History, Spain
Abstract
This paper analyses the history of de Spanish biscuit industry from the end of de the 18th century to the Civil War, with a special attention to the institutional and technological questions as well as the changes in the location factors. Biscuit industry, even its small size and the domain of the family firms, was one of the most dynamic branches of the Spanish food industry, thanks to its technical progress and the changes suffered in the organization and direction of its firms and in the promotion of its products. This is the thesis I maintain in this essay.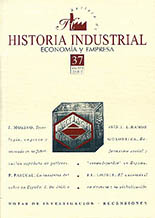 Downloads
License
El/la autor/a cede los derechos al/la editor/a. Creative Commons
El/la autor/a que publica en esta revista está de acuerdo con los términos siguientes:
El/la autor/a cede en exclusiva todos los derechos de propiedad intelectual al/la editor/a para todo el mundo y toda la duración de los derechos de propiedad intelectual vigentes aplicables.
El/la editor/a difundirá los textos con la licencia de reconocimiento de Creative Commons que permite compartir la obra con terceros, siempre que éstos reconozcan su autoría, su publicación inicial en esta revista y las condiciones de la licencia.