From State to the market. Competition and regulation in the Argentina railway sector at the beginnings of the XXth century
Keywords:
Estado, Mercado, Ferrocarriles, Regulación, Argentina
Abstract
The role of the State and the market and their relative influence upon the economic growth, has been the object of long lasted academic discussion. In this paper we propose to contribute to debate from another perspective: that of their interaction and reciprocal influences, with the object to realise the manner by which an specific order is constructed. Specifically we analyze the Argentine railway sector, in the last stage of great constructions with foreign participation, at the beginnings of the XXth century. The study is centered upon the efforts of the State to revert or mitigate the effects of an oligopolic structure in the market. At the beginnings, by the promotion to the entry of new actors and lastly, by the construction of a regulatory order with the consensus of the big companies, which would be in force for some 40 years, until the great nationalizations of 1946-47.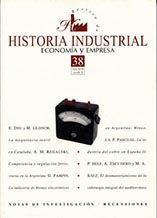 Downloads
License
El/la autor/a cede los derechos al/la editor/a. Creative Commons
El/la autor/a que publica en esta revista está de acuerdo con los términos siguientes:
El/la autor/a cede en exclusiva todos los derechos de propiedad intelectual al/la editor/a para todo el mundo y toda la duración de los derechos de propiedad intelectual vigentes aplicables.
El/la editor/a difundirá los textos con la licencia de reconocimiento de Creative Commons que permite compartir la obra con terceros, siempre que éstos reconozcan su autoría, su publicación inicial en esta revista y las condiciones de la licencia.