Industrial benefits. The firm Berenguer and Cia. of Artés in Catalan industrialization
Keywords:
Weaving, Industrial Accounting, Industrial Benefits, Catalan Bourgeoisie.
Abstract
This paper analyses, firstly, the role of weaving in Catalan industrialization. Around 1840, after the mechanization of spinning, there was an expansion of manual weaving in the form of weaving mills, some of which evolved towards mechanization, whereas others kept producing fabrics difficult to mechanize. Secondly, on the basis of an analysis of the family firm Berenguer in the town of Artés, the paper shows the high accumulation potential of the textile industry, as this family of simple hand weavers in 1840 ended up joining the Catalan bourgeoisie in the early twentieth century. Studies on profits in the textile industry have usually reported low profits, while this case study shows that the weaving industry was extremely profitable in the last third of the nineteenth century, allowing a family from a rural village to establish a fully mechanized factory in Artés, and an industrial "colony" in Cabrianes and to live with the luxury of the Catalan bourgeoisie in Barcelona.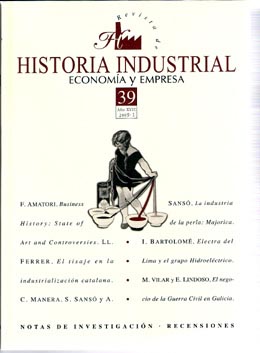 Downloads
License
El/la autor/a cede los derechos al/la editor/a. Creative Commons
El/la autor/a que publica en esta revista está de acuerdo con los términos siguientes:
El/la autor/a cede en exclusiva todos los derechos de propiedad intelectual al/la editor/a para todo el mundo y toda la duración de los derechos de propiedad intelectual vigentes aplicables.
El/la editor/a difundirá los textos con la licencia de reconocimiento de Creative Commons que permite compartir la obra con terceros, siempre que éstos reconozcan su autoría, su publicación inicial en esta revista y las condiciones de la licencia.