The birth of joint stock companies in Chile, 1849-1875
Keywords:
joint stock companies, nineteenth century, Chile, shareholders, economic elites
Abstract
This article deals with the emergence of joint stock companies (JSC) in Chile during the third quarter of the nineteenth century. We have built the first database related to JSC for this period, providing useful information about its demography. We found that: JSC funded the emergence of new key industries fostering economic growth; there was a high level of concentration in JSC ownership; most shareholders were Chilean, which means that the main investment projects in mining, banking and transport were funded with national capital; Chilean businessmen were active in mobilizing capital funds and adopting new technologies.  The entrepreneurial spirit shown by local businessmen, be they miners, bankers, agriculturalists or traders is undeniably present, in a transitional phase to capitalism
Downloads
Download data is not yet available.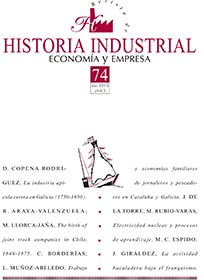 Downloads
License
El/la autor/a cede los derechos al/la editor/a. Creative Commons
El/la autor/a que publica en esta revista está de acuerdo con los términos siguientes:
El/la autor/a cede en exclusiva todos los derechos de propiedad intelectual al/la editor/a para todo el mundo y toda la duración de los derechos de propiedad intelectual vigentes aplicables.
El/la editor/a difundirá los textos con la licencia de reconocimiento de Creative Commons que permite compartir la obra con terceros, siempre que éstos reconozcan su autoría, su publicación inicial en esta revista y las condiciones de la licencia.