The origins of Made in Italy. Italian fashion and the international market following the Second World War (1951-1969)
Keywords:
Italian Fashion Industry, Made in Italy, Marketing Strategies, Socio-economic Changes
Abstract
During the Fifties and Sixties, the young Italian fashion industry reached definitive international renow. The term "made in Italy" became synonymus with taste, elegance, style and quality –a label not just for the products, but for a genuine lifestyle. In this essay we shall analyse a facet of the relationship between Italian fashion and the intemational market which we deem important for the consolidation of this process. We shall examine the essential aspects of direct marketing strategies (shows, exhibitions, specialist markets and various other types of overseas initiatives), analysing the evolution which took place in paraleel to the most significant socio-economic changes of the period in question, considering the three levels of Italian production (high fashion, boutique fashion, and ready-to-wear). We shall also see how Italy managed to develop original promotional strategies in the field of fashion production, thus meeting the needs of a market which was undergoing continual and rapid transformation.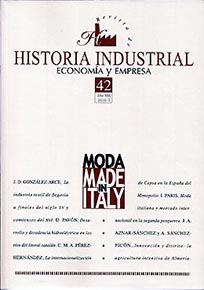 Downloads
License
El/la autor/a cede los derechos al/la editor/a. Creative Commons
El/la autor/a que publica en esta revista está de acuerdo con los términos siguientes:
El/la autor/a cede en exclusiva todos los derechos de propiedad intelectual al/la editor/a para todo el mundo y toda la duración de los derechos de propiedad intelectual vigentes aplicables.
El/la editor/a difundirá los textos con la licencia de reconocimiento de Creative Commons que permite compartir la obra con terceros, siempre que éstos reconozcan su autoría, su publicación inicial en esta revista y las condiciones de la licencia.