The Spanish economic backwardness in the European mirror (1813-1914)
Keywords:
Spanish Motor Industry, Economic Policy, State Intervention, Japanese Motor Industry
Abstract
In the automotive industry, State performance is one of the factors behind the backwardness of Spain at the time of joining the mass production. In other countries, such as Japan, the intervention of the authorities was vital in the early stages of this industry. However, in Spain neither fiscal policy, nor the tariff and the legal mesures to promote productions contributed significantly to create a comparative advantage in car manufacturing before 1936. This paper analyzes the performance of the Spanish state using the Japanese case as a reference.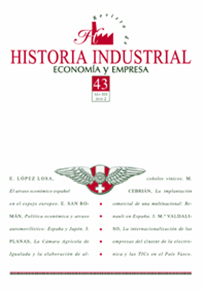 Downloads
License
El/la autor/a cede los derechos al/la editor/a. Creative Commons
El/la autor/a que publica en esta revista está de acuerdo con los términos siguientes:
El/la autor/a cede en exclusiva todos los derechos de propiedad intelectual al/la editor/a para todo el mundo y toda la duración de los derechos de propiedad intelectual vigentes aplicables.
El/la editor/a difundirá los textos con la licencia de reconocimiento de Creative Commons que permite compartir la obra con terceros, siempre que éstos reconozcan su autoría, su publicación inicial en esta revista y las condiciones de la licencia.