Selling Machines. A history of the French big retailing in Spain since 1960s
Keywords:
Grocery, Internationalisation, Retail, Spain
Abstract
This paper seeks to draw the path of one of the most successful sectors in French international business: the big retailing. The starting hypothesis assesses that the arrival and the success of French hypermarkets is due to a set of circumstances: the fact that Spain was a neighbor country and a preferential destination for French tourists is, probably, the first reason. We cannot forget the relaxed legislation in the country and the election of good local partners. The paper is a case of study on the international investment in a sector with a lack of research, the big retailing. The main character of the research is the Carrefour Group (wich includes the stories of Pryca and Continente in Spain) and the Auchan growth (with the name of Alcampo in Spain). It is the history of a business with a gradual growth, from pionnering investments, and that seems to fit with the theoretical framework developed by several authors of the School of Uppsala in the seventies.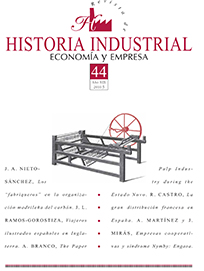 Downloads
License
El/la autor/a cede los derechos al/la editor/a. Creative Commons
El/la autor/a que publica en esta revista está de acuerdo con los términos siguientes:
El/la autor/a cede en exclusiva todos los derechos de propiedad intelectual al/la editor/a para todo el mundo y toda la duración de los derechos de propiedad intelectual vigentes aplicables.
El/la editor/a difundirá los textos con la licencia de reconocimiento de Creative Commons que permite compartir la obra con terceros, siempre que éstos reconozcan su autoría, su publicación inicial en esta revista y las condiciones de la licencia.