From poor's bread to sophisticated food additive. Technology and innovation around carob industry: the case of the Balearic Islands (1930-2010)
Keywords:
Food Industry, Agrarian Markets, Industrial Innovation, Balearic Islands
Abstract
Until 50 years, the carob, was mainly used as food for livestock. From today's perspective, its contribution to the sustainment of small and medium-sized farms in the days before mass mechanization is beyond any doubt. However, after a long process of decline beginning in the 1950's, the fruit and the seed of the carob tree regained importance as a raw material for the production of quality food additives, such as locust bean gum or E-410. The Balearic Islands, which historically have been one of the main carob producers in the world, have established themselves in the 1930's as the leading region in the development of industrial techniques for the processing of carobs. Moreover, Majorcan companies pioneered the concentration of agricultural production. This increased research and favoured innovations, as well as it helped the cartelization of this sector. Nowadays, carob still remains highly relevant in Majorca and on international markets.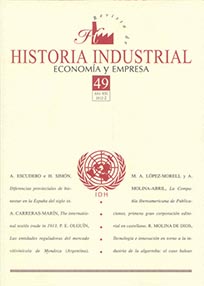 Downloads
License
El/la autor/a cede los derechos al/la editor/a. Creative Commons
El/la autor/a que publica en esta revista está de acuerdo con los términos siguientes:
El/la autor/a cede en exclusiva todos los derechos de propiedad intelectual al/la editor/a para todo el mundo y toda la duración de los derechos de propiedad intelectual vigentes aplicables.
El/la editor/a difundirá los textos con la licencia de reconocimiento de Creative Commons que permite compartir la obra con terceros, siempre que éstos reconozcan su autoría, su publicación inicial en esta revista y las condiciones de la licencia.