An interpretation of the development of refining and petrochemical industries in East Asia: Productive capacities, structural change, and external relations
Keywords:
Refino, Petroquímica, Asia oriental, Paradigma de las ocas voladoras
Abstract
Several countries in East Asia, with barely any possession of crude oil, developed along the second half of the 20th century strong productive capacities in advanced stages of the oil production cycle: refining and petrochemical industries. This paper details the development of these productive capacities in various countries of the region, as well as their economic exchanges. The article also offers an explanation of the aforementioned productive capacities and exchanges based on the basic tenets of a major interpretative paradigm of the dynamics of structural change and transformation of foreign relations in East Asia: the flying geese paradigm.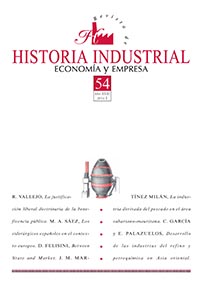 Downloads
License
El/la autor/a cede los derechos al/la editor/a. Creative Commons
El/la autor/a que publica en esta revista está de acuerdo con los términos siguientes:
El/la autor/a cede en exclusiva todos los derechos de propiedad intelectual al/la editor/a para todo el mundo y toda la duración de los derechos de propiedad intelectual vigentes aplicables.
El/la editor/a difundirá los textos con la licencia de reconocimiento de Creative Commons que permite compartir la obra con terceros, siempre que éstos reconozcan su autoría, su publicación inicial en esta revista y las condiciones de la licencia.