Cooperation and internationalization: the case of ALSA
Keywords:
Internationalization, cooperation, business history, transport
Abstract
By focusing on the case of Alsa, this paper analyzes the role of cooperative agreements in internationalization processes on the part of service companies. Alsa, which is now part of the British National Express, has been the Spanish road passenger transport industry's leader for years and has achieved extensiveinternational growth. Over five decades, cooperation has played a key role in its international growth, mainly due to institutional and cultural factors. Alsa has developed a wide range of horizontal strategic alliances with local partners in host countries: from network exchange to joint ventures, including shared acquisition processes.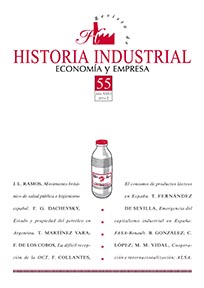 Downloads
License
El/la autor/a cede los derechos al/la editor/a. Creative Commons
El/la autor/a que publica en esta revista está de acuerdo con los términos siguientes:
El/la autor/a cede en exclusiva todos los derechos de propiedad intelectual al/la editor/a para todo el mundo y toda la duración de los derechos de propiedad intelectual vigentes aplicables.
El/la editor/a difundirá los textos con la licencia de reconocimiento de Creative Commons que permite compartir la obra con terceros, siempre que éstos reconozcan su autoría, su publicación inicial en esta revista y las condiciones de la licencia.