Telecommunications liberalization in Spain: European objectives versus national interests
Keywords:
telecommunications, Spain, European Union, liberalization, inflation, universalization, Telefónica
Abstract
This paper analyses the liberalization of the telecommunications sector in Spain in the period 1987-2003. Our main hypothesis is that although liberalization was imposed by the European authorities, the strategy adopted and steps taken by the Government to open the market were importantly determined by two objectives of the national economic policy: the universalization of the service and the anti-inflationary policy oriented toward entrance into the European Monetary Union (EMU). Identification of the national political interests at each point in time led the Government to block or accelerate liberalization according to the European calendar. This political use of liberalization is essential to understanding the telecommunications policy of this period. We also argue that the subordination of telecommunications policy to the anti-inflationary policy caused a delay in Telefonica's tariff rebalancing. Finally, we explain how telecommunications policy was affected by national policy objectives. Initially, a model of infrastructure competition was introduced, but it was soon reformed due to a lack of competition and investment. Thus, a more pragmatic strategy was adopted, based on access to Telefonica's local loop.
Downloads
Download data is not yet available.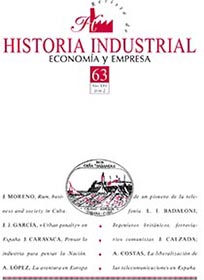 Downloads
License
El/la autor/a cede los derechos al/la editor/a. Creative Commons
El/la autor/a que publica en esta revista está de acuerdo con los términos siguientes:
El/la autor/a cede en exclusiva todos los derechos de propiedad intelectual al/la editor/a para todo el mundo y toda la duración de los derechos de propiedad intelectual vigentes aplicables.
El/la editor/a difundirá los textos con la licencia de reconocimiento de Creative Commons que permite compartir la obra con terceros, siempre que éstos reconozcan su autoría, su publicación inicial en esta revista y las condiciones de la licencia.