The beginning of comercial banking in Puerto Rico: The Commercial Credit Company Ltd, 1877-1888
Keywords:
Banking history, Latin American and Caribbean-Puerto Rico, business history, financial history
Abstract
This paper analyses the delayed development of banking and finances on the island of Puerto Rico during its last years as a colony under Spanish dominion. Financial backwardness was reflected in the problems involving currency and in the lack of an issuing bank. The reasons that are defended here are the inefficient administration of the colony and the economic interests of the Spanish trading elite on the island. The change in circumstances that came about in the 1870s –namely, the abolition of slavery and the international economic crisis– led to a change of attitude among the stakeholders and to the founding of the first commercial bank, the Sociedad Anónima de Crédito Mercantil (Commercial Credit Company Ltd.), in 1877. This study examines its early years of operation as a significant case.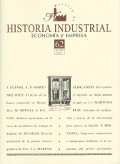 Downloads
License
El/la autor/a cede los derechos al/la editor/a. Creative Commons
El/la autor/a que publica en esta revista está de acuerdo con los términos siguientes:
El/la autor/a cede en exclusiva todos los derechos de propiedad intelectual al/la editor/a para todo el mundo y toda la duración de los derechos de propiedad intelectual vigentes aplicables.
El/la editor/a difundirá los textos con la licencia de reconocimiento de Creative Commons que permite compartir la obra con terceros, siempre que éstos reconozcan su autoría, su publicación inicial en esta revista y las condiciones de la licencia.